Painting portraits of a continent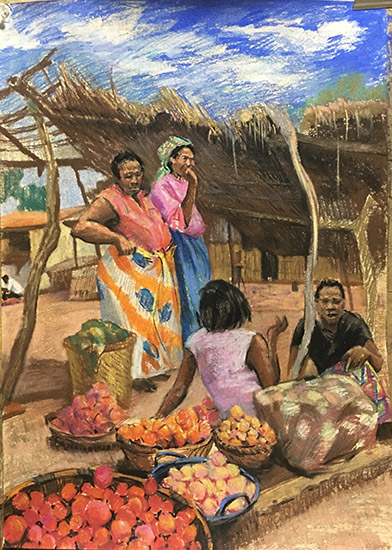 An oil painting by Chen Cheng, who joined a China-Africa exchange project by the Culture Ministry.[Photo provided to China Daily]
Five Chinese artists who traveled to three African countries earlier this year didn't see the savannas and animals they expected - but they were deeply touched by the people.
These Africans are rendered on these Chinese painters' canvases.
The show Walking Paintbrush, which recently ended in Beijing and will head to the Qingdao Art Museum in Shandong province on July 19, displays over 50 ink, oil and watercolor paintings by the artists, who traveled to Malawi, Tanzania and Mauritius in January.
It was their first time on the continent, which they'd known only through books and TV.
Chen Cheng says she was fascinated by people living in original landscapes - passionate dancers, children riding bikes and market shoppers.
"I expected to see lots of animals running in the wild," she says.
"But the people intrigued me most."
Chen plans to visit another three African countries in October.
The artists were captivated by the natural areas in Malawi, a landlocked country and agricultural economy, she says.
"I could feel their happiness through their eyes, smiles and dances. Many of them have no idea about China," she says.
But they saw Chinese doing business in Tanzania and people from around the world in Mauritius.
"We know Africa isn't homogenous," Chen says.
"It has various cultures and different economies."
That's why she has decided to return to explore more.