Artist Huang Yue knighted by Italy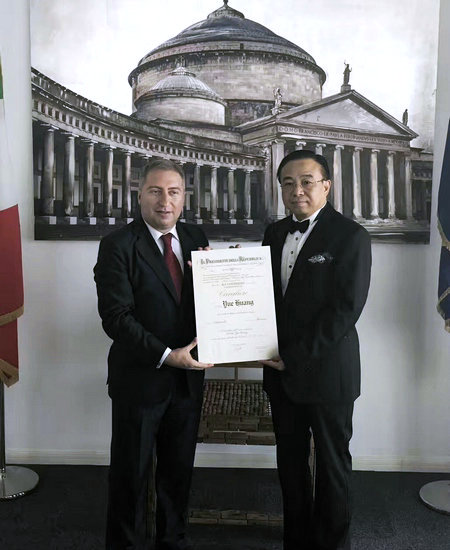 Sergio Maffettone, the Italian Consul General in Chongqing, presents the certificate to Huang Yue. [Photo provided to chinadaily.com.cn]
Chinese painter Huang Yue has recently been awarded a knighthood in honor of his contribution to China-Italy artistic communication and cooperation.
He is the first Chinese artist to receive the honor.
Huang's art philosophy derives from traditional Chinese culture, but in his pursuit for ethereality he has incorporated elements of Western oil paintings.
The abstract and the real create an intricate chemistry on canvas. Strokes of bright colors contrast with shades of black.
Many of his pieces have won international awards and have been collected by art galleries and celebrities around the globe.
Huang was presented with the award by Sergio Maffettone, the Italian Consul General in Chongqing. Guests at the ceremony came from the political, business, financial and artistic circles of both Italy and China.
The official honor is called Knight of the Order of Merit of the Italian Republic and the certificate conferring the title was issued on Jan 13, 2017.