Auction features calligraphy by 4 emperors at over $7m

Emperors' calligraphy from the Sounthern Song Dynasty [Photo provided to China Daily]
China Guardian's 2017 spring auction will be held in Beijing from June 19 to 23, featuring eight Chinese paintings and calligraphy pieces estimated at over 50 million yuan ($7.35 million).
The highlight is a calligraphy work consisting of four scripts by four emperors from the Southern Song Dynasty (1127-1279). The scripts represent four consecutive generations of emperors of the Southern Song Dynasty in the 12th century, including Emperor Gaozong, son of the well-known poet Emperor Huizong in Chinese history. The imperial family is known for their talent in literature and art.
The emperors' calligraphy has an estimated value over 100 million yuan. Luan Jingli, head of ancient Chinese painting and calligraphy of China Guardian Auctions, says that it's very rare to see an emperor's calligraphy from the Southern Song Dynasty, let alone a piece gathering four emperors' scripts.
According to Luan, the calligraphy of four emperors first appeared in an auction in Hong Kong many years ago and then went to auction in New York in 2012.
In the modern Chinese painting and calligraphy section, the auction house offers three large paintings by three modern masters of painting — Huang Binhong, Li Keran and Pan Tianshou.
Huang's large landscape painting of Huangshan Mountain in Anhui province was the artist's last important work. He painted it at the age of 92.
The highlights of the contemporary art include paintings from Luo Zhongli, Wu Dayu and Chu Teh-chun.
To diversify its goods on auction, China Guardian offers three guqin, a seven-stringed instrument similar to zither, which are from three different dynasties, including the Tang Dynasty (618-907).
A preview of the spring auction will be held in the Beijing International Hotel from June 16 to 18.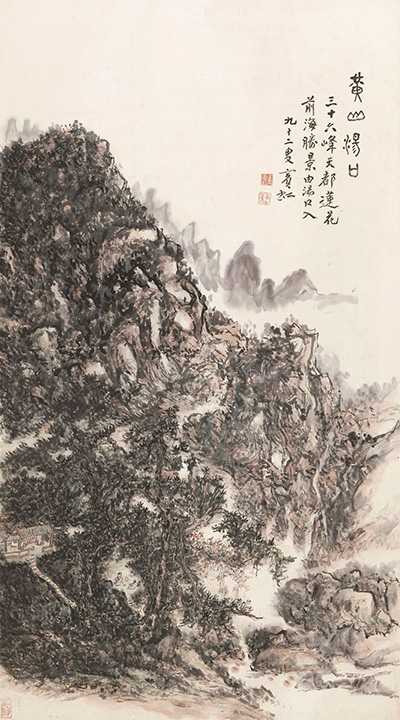 Huangshan Mountains by Huang Binhong [Photo provided to China Daily]