Digitalizing Dunhuang: Ancient Buddhist art protected by modern tech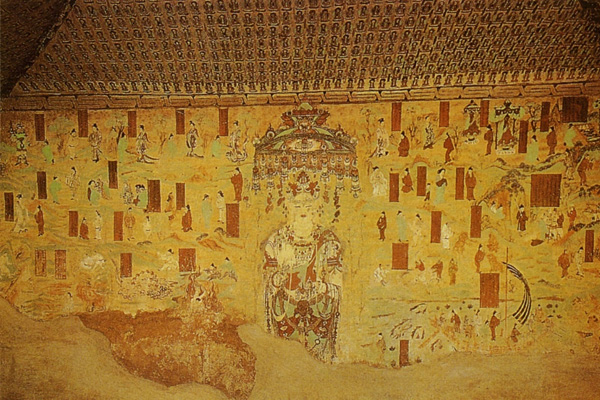 Tang Dynasty Fresco (No.45 Cave, Mogao Grottoes) [Photo/VCG]
Among China's greatest art treasures are the Buddhist caves near Dunhuang, a Gobi Desert oasis on the ancient Silk Road that once linked China and the West.
Today, with the threat of mass tourism, an ambitious project to digitalize the caves is underway in a bid to preserve them. The UNESCO World Heritage site includes more than 700 caves, as well as 2,400 clay sculptures and 45,000 square meters of frescoes.
They have survived war, environmental damage, and antiquity hunters, but tourism is their biggest threat nowadays. To tackle the problem, the Dunhuang Research Academy has cooperated with many foreign institutions, including the US' Getty Conservation Institute, in a bid to preserve and digitalize the historic artifacts.
"We have worked out a comprehensive and standard system to fix problems of the murals caused by aging. I think in this field, Dunhuang's skills surpass many other domestic historic spots," said Wang Xiaowei, Vice Director of the Protection Center of Dunhuang Research Academy.
A digital exhibition has just been held, showcasing Dunhuang's ancient frescoes, sculptures, and other relics dating as far back as 430 AD.
Donning virtual reality glasses, visitors are transported into a breathtaking "virtual" Dunhuang grotto that can be seen, heard and felt.
The academy has established a database, permanently preserving all of the grotto's information. To reduce visitor numbers, people can now access the grottoes online, no matter where they are.
"We put online 30 caves representing different periods, to form the digital platform of Dunhuang. We just want to share, so the platform is all free to the public," said Wu Jian, Director of the Digital Center of the Dunhuang Research Academy.