Summer resort turns into winter paradise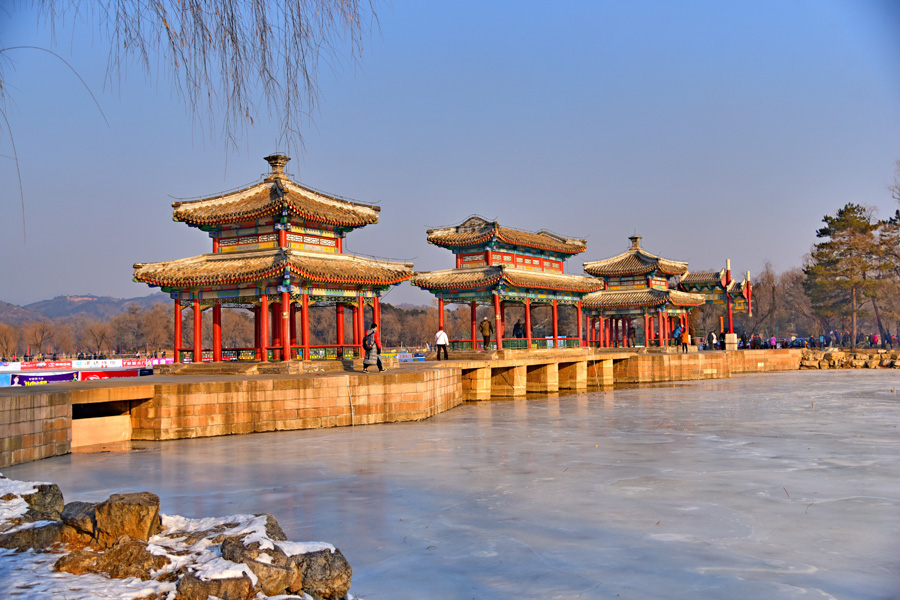 The Shuixin Chamber is one of the landmarks of Chengde Mountain Resort. [Photo by Zhang Xingjian/chinadaily.com.cn]
Chengde Mountain Resort is situated in the city of Chengde in North China's Hebei province. Built between 1703 and 1792 during the Qing Dynasty (1644-1911), the resort took 89 years to complete.
Qing emperors would spend six of the hottest months of the year handling government affairs and enjoying the cooler temperatures here. The resort, together with the Summer Palace in Beijing, the Humble Administrator's Garden and the Lingering Garden in Suzhou, makes up the "the Four Chinese Gardens".
In December 1994, Chengde Mountain Resort and its surrounding temples were included in the World Cultural Heritage list by UNESCO.
Chengde Mountain Resort is a large complex of imperial palaces, gardens and grand temple compounds.
The layout is roughly divided into two parts; the palace region and the garden region. The latter can be sub-divided into the lake area, the plain area and the mountain area.
Located at the southern bank of the lake, the magnificent palace region used to be a busy place where emperors would conduct state affairs, hold ceremonies and enjoy their lives.
Eight small islands divide the beautiful lake area into several parts of varying size, linked by causeways and bridges. The plain area lies at the foot of the mountains to the north of the lake. Its open terrain is decorated by the Trees Garden, which adds a sense of calm to the vast grassland.
The mountain area covers about 80 percent of the whole garden. Forested mountains, hills, ravines and valleys are dotted with temples, pavilions, and pagodas. The natural scenery of Chengde Mountain Resort is the epitome of the splendid landscape of China.