UK auction house says rise of Chinese buyers a major trend
Bidders from the Chinese mainland with deep pockets are becoming more prominent at auctions of Asian art, and experts say there is no sign of the trend easing.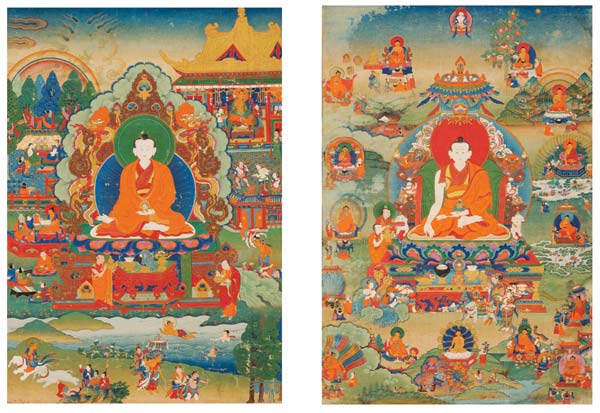 A colorful Tibetan Buddhist work of art that will be offered at next week's auction.
British auction house Bonhams said the emergence of buyers from the Chinese mainland, who are trading and buying in the West, was one of the most important developments in the art world in the last decade.
Colin Sheaf, head of Asian art at Bonhams, said: "These Chinese mainland collectors are passionate about classical Chinese art and they now have the opportunity to buy and also perhaps really understand quality pieces."
Sheaf said Chinese collectors are "astonishingly enthusiastic about (China's) history" and fascinated by its culture. One major trend Bonhams noted was the growing interest in Chinese furniture.
Asaph Hyman, international head of Chinese ceramics and works of art, said: "There is a real appreciation for this particular category in China, but it is also drawing attention from collectors in the West too."
In Bonhams' upcoming Fine Chinese Art auction in London on May 11, highlights will include a collection of Chinese furniture dating from the 17th and 18th centuries.
The auction house said the value of Chinese furniture had gone up 10-fold during the last 15 years and noted that the majority of buyers from the Chinese mainland were willing to pay even more.
Hyman said the simple lines and almost architectural and geometric designs were an attraction for collectors.
"The pieces may look simple, but there is an immensely sophisticated design," he explained. "The craftsmen don't use any nails to put the furniture together and this makes the piece look elegant and appealing."
A lacquer and bamboo two-part center table from the time of the Qing Dynasty emperors Yongzheng and Qianlong, who reigned between the years 1723 and 1796, is expected to attract a lot of attention at the auction. The table is modeled to resemble two adjoining leaves and was likely to have been manufactured during the reign of the Yongzheng emperor.
However, Bonhams said that demand from the palace for such lacquered furniture continued into the Qianlong period. The piece is likely to go for between 80,000 pounds ($103,000) and 120,000 pounds.
Also going under the hammer is a rare imperial famille rose twelve-leaf screen from the time of Emperor Jiaqing, who reigned from 1796 to 1820. Each porcelain panel is enameled with depictions of groups of immortals. It is expected to fetch between 100,000 pounds and 150,000 pounds.
Hyman said he believes the screen was specially commissioned for a celebration, such as a birthday, possibly by or for the emperor.
In addition, a diverse collection of Tibetan Buddhist paintings on cloth and silk will be auctioned next week.