Art beat (March 22-April 30)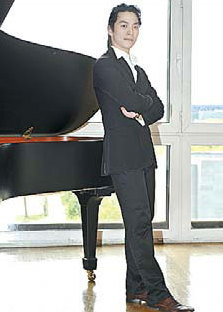 Keyed into Chopin
Pianist Wu Muye (pictured) will give a recital by interpreting Chopin's Andante Spianato et Grande Polonaise and 24 Preludes, and Beethoven's Sonata L'Appassionata. Born to a musical family, the prodigy started learning piano at 4 and received first prize at the Hong Kong Piano Competition at 9. In 2001, he entered French pianist Jacques Rouvier's class at the Conservatoire National Superieur de Musique de Paris. With numerous international awards, Wu toured France in 2008 and returned to perform in China in 2009. Wu says Chopin is his idol and he hopes to share his understanding of the composer with Chinese audiences.
7:30 pm. April 11. Forbidden City Concert Hall, west side of Tian'anmen, inside Zhongshan Park, Beijing. 010-6559-8285.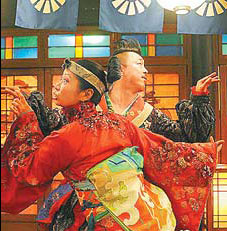 Triple header
The Chef, the Actor and the Scoundrel casts three of China's veteran actors, who show their prowess with solid acting skills. Zhang Hanyu, Huang Bo and Liu Ye, under the direction of Guan Hu, present a boisterous and crazy tale. The slapstick comedy takes place in a restaurant in 1942, when a chef, an actor and a scoundrel have to confront two Japanese soldiers. Zhang fully displays his opera skills, Huang shows a gift for dancing, while Liu covers his pretty face with makeup too dirty to make him recognizable. The film premieres on Friday.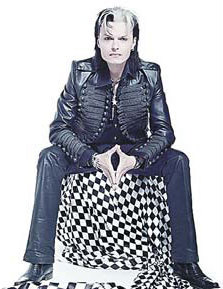 Goth-metal meld
The dark rock duo known as Lacrimosa, German composer Tilo Wolff (pictured) and Finland's Anne Nurmi, has evolved into a gothic metal group over the course of two decades. With their 11th studio album, Revolution, they've kicked off their 2013 world tour and will come to China for two concerts. With their usual poetic lyrics, which are mostly written in German, they've mixed their gothic rock and heavy metal along with violin, trumpet and more classical instruments. Their powerful concerts in Shanghai in 2006 and in Beijing in 2009 gained a large fan base in China.
8 pm, April 2. Third Floor of Tango Club, the former Star Livehouse, 79, Hepingli West Street, Dongcheng district, Beijing. 010-8403-7131.
Long but worthy dream
Stan Lai's eight-hour play A Dream Like a Dream will run from April 1 to 14. Inspired by several small stories Lai heard in the 1990s and an India trip, the must-see drama weaves several characters' dreams and realities into a seamless structure that echoes Buddhist beliefs about life, death and reincarnation. Lai first put on this epic in Taiwan in 2000, then revived it in 2005 for a Cantonese edition that played in Hong Kong in 2002. As for Wagner's Ring Cycle or Tang Xianzu's Kunqu Opera Peony Pavilion, both of which take days and nights to watch, the audience will sit from afternoon to midnight, with a short supper break. For the event, the theater will be rebuilt to create a custom-designed space for the audience to sit in the center, while actors perform around them.
2 pm-7:30 pm, April 1-14. Poly Theater, No 14 Dongzhimen Nandajie Street, Beijing. 010- 6551-3348, 400-860-0605.
Sounds of love
Known for her love songs Not Going Anywhere and End of May, Paris-based artist Keren Ann will perform live in Beijing on April 14 at the M-Space of Mastercard Center. A singer, composer and producer, she is a coffeehouse favorite thanks to her clean voice. Born in Israel, the artist moved to Paris at 11 and became a budding star in France. She has released six solo albums and her song Lay Your Head Down was the music for the international H&M Spring commercial.
7:30 pm, April 14, M-Space at the MasterCard Center, Wukesong cultural and sports center, Fuxinglu, Haidian district, Beijing. 010-6828-6386
Jewelry with a story
Ubi Gallery at Beijing presents six young Asian jewelry artists in its latest exhibit Hit Home. The artists explore the issues emerging from our changing and fast-moving lives. They found their own answers to questions about living, movement and urban community. Their jewelry reflects feeling at home in public spaces, rigid cultural patterns and rapid changes in networks. The show lasts until April 30.
11:30 am-6:30 pm, Wednesday to Sunday, till April 30, 39 Yangmeizhu Street, Dashilar, Xicheng district, Beijing. www.ubigallery.com.