Chinese TV shows win foreign fans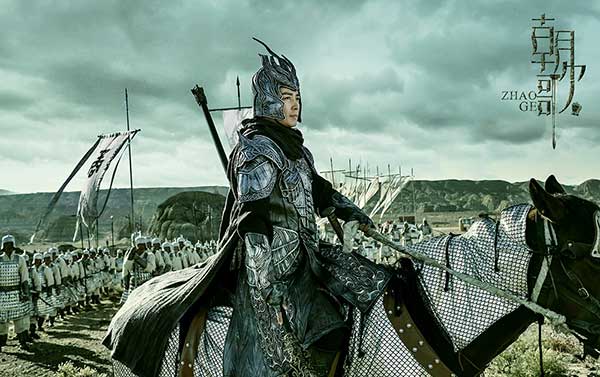 Zhao Ge, named after an ancient dynasty's capital, is based on heroes and romances going back about 3,000 years.[Photo provided to China Daily]
Zhao Ge, named after an ancient dynasty's capital, is based on heroes and romances going back about 3,000 years; Story of Yanxi Palace is set in the reign of 18th century Emperor Qianlong and chronicles the rise of a royal maid to be the ruler's most-loved concubine; while Untouchable Lovers is about a fake princess who is dragged into controversy in fifth century China.
"The prospective customers were not just interested in the stories, but they were also drawn by the Chinese culture and history behind them," said Yang, now the chief executive of Dongyanghuanyu Film & Television Culture Co Ltd.
Besides the display of the props, a documentary on exquisite embroidery and ornament making was shown at the exhibition, attracting a lot of interest.
So far, more than 20 prospective customers - coming from countries including the United Arab Emirates, Poland and Pakistan - have shown interest in purchasing the distribution rights of Zhao Ge.
There are five queries for Story of Yanxi Palace. Separately, buyers from Malaysia and South Korea already have signed contracts for Zhao Ge.
With China becoming one of the world's largest television content producers, Yang's recent experience in Cannes is a snapshot of the growing influence of the Chinese television industry.
This year, more than 13,900 delegates and 4,800 buyers from over 110 countries attended MIPCOM to market programs and formats for international distribution. More than 100 Chinese companies and agencies comprising 400 delegates attended.
Statistics from the State Administration of Press, Publication, Radio, Film and Television show that China so far has translated more than 1,600 domestic movies and television productions into 36 languages - including English, French, Russian, Spanish, Arabic and Portuguese - and they are being aired in more than 100 countries.
Last year, China's exports of TV series earned 510 million yuan ($77.2 million), accounting for 68 percent of the total earnings from exported television content, according to the administration.