Palace Museum opens northern wall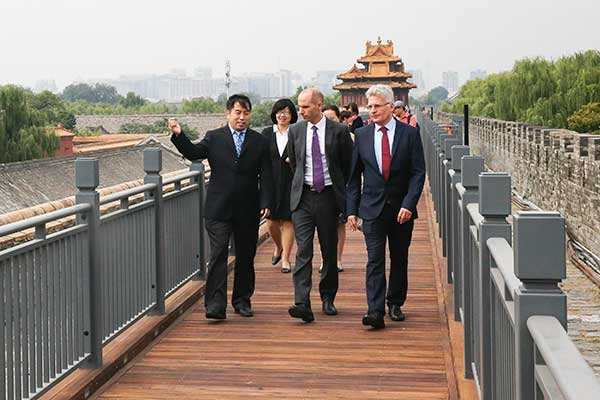 Guests get a tour of the northern wall of the Forbidden City in Beijing on Wednesday, one day before that wall was opened to the public for the first time.[Photo by Jiang Dong/China Daily]
The Palace Museum in Beijing, also known as the Forbidden City, opened its northern city wall for the first time to the public on Thursday.
The newly opened section, some 200 meters long, includes two wings accessible from the Shenwumen or Gate of Divine Might, which is a large structure that serves as the northern gate of the Forbidden City. The two northern turrets still remain closed.
Wooden planks have been placed along the top of the wall to protect the ancient bricks and fences have been installed on either side for visitors' safety.
"Visitors can get a panoramic view of the Forbidden City from above," said Ren Wanping, deputy director of the Palace Museum. "They can also get a nice view of Jingshan and Beihai parks."
The Forbidden City was China's imperial palace from 1420 to 1911, and its 3,400-meter-long city wall dates back almost six centuries to its earliest years.
In October 2015, sections of the southern and eastern walls, including the southeastern turret, were opened to the public, the first time the museum allowed such access to its walls.
A comprehensive renovation of the museum's city walls was launched in November.