Chinese vase sells for $5.2m, 10,000 times its estimated price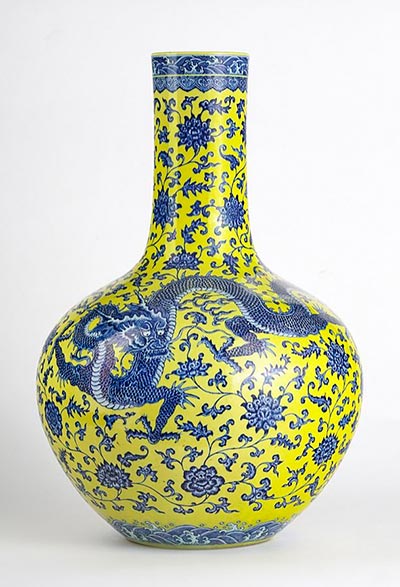 A Chinese vase sold for $5.2 million at a Geneva auction house on Sept 21. [Photo/VCG]
A Chinese vase was sold for a record five million Swiss francs ($5.18 million) at a Geneva auction house on Sept 21, 10,000 times its original valued price of between 500 to 800 Swiss francs ($517-$828).
According to the catalogue of Geneve-Encheres auction house, the vase, 60cm tall which depicts three blue dragons against a yellow backdrop, is from the 20th century but it beats an unverified mark most likely of Emperor Qianlong of the Qing Dynasty (1644-1911).
A heated bidding battle was played out on Thursday by two bidders who believed the vase was created during the 18th century. The vase was sold to an amateur bidder from Asia.
The auctioneer at Geneve-Encheres said exact age of the vase was difficult to evaluate, which led to their conservative estimate of the final selling price. The final price was 10,000 times more than the original estimate.
"This is the hammer price so with the commission added it is a total of 6.08 million Swiss francs ($6.1 million)," said auctioner Olivier Fichot.
The vase was also the highest bid ever made in Geneva outside of jewelry and watches, added Fichot. The previous record was held by a bronze Buddha statue sold for 550,000 Swiss francs ($570,000).