Sports-themed movie screened at Beijing school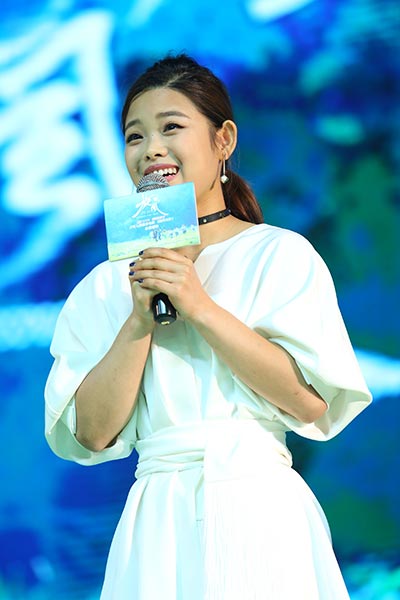 Actress Wang Shasha promotes the sports children film Running Like Wind in Beijing. [Photo provided to China Daily]
To mark Teachers' Day, the sports-themed movie Running Like Wind was screened at Beijing Bayi High School.
The film, based on the real-life story of a middle-school girls' football team in South China's Hainan province, is about their harsh training and how they won the Gothia Cup in Sweden from 2015 to 2017.
Huang Jun, the president of the Beijing-based Children's Film Studio, says the movie marks the studio's return to making films for children after a decade.
The studio, founded in 1981, is China's only film company to produce live-action movies for children and teenagers. Besides, it has also worked on translating and dubbing foreign movies for children.
Huang also says that the studio assigned six scriptwriters to interview those involved with the team.
Replying to question about the standard of the films produced, Huang says: "To be honest, we have yet to become world class."
Meanwhile, Zhong Hai, the film's director, says he used drones to shoot some scenes, and recruited some members of the team to act in the movie.
The movie may not be released in Chinese mainland theaters, but the producers plan to screen it in primary and middle schools and expect it to be seen by around 100 million students.
The screenings, which began on Sept 10, will run for at least the next three months.