Cirque du Soleil's emphatic comeback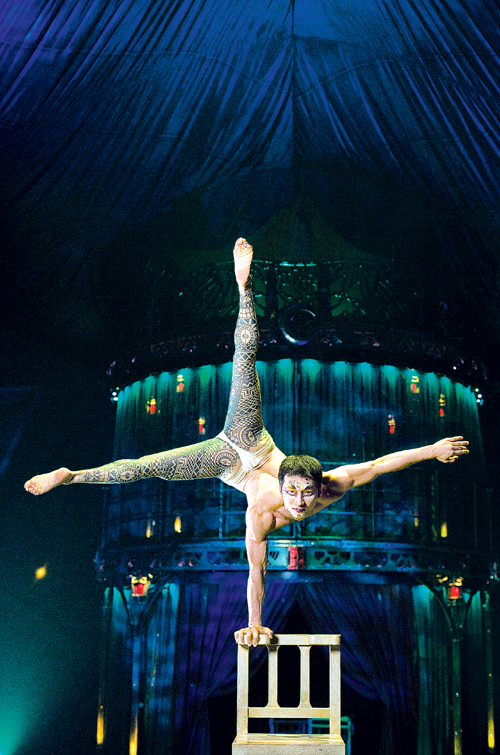 Yao Dengbo's solo performance during Cirque du Soleil's new show Kooza.[Photo provided to China Daily]
A decade after its debut in China, the Canadian entertainment company is now returning with an ambitious plan: to bring a touring show to the country every year in addition to a resident show in Hangzhou
Having grown up in a remote village in Anhui province, where more than 70 percent of China's circus performers come from, Yao Dengbo learned how to be an acrobat when he was just 6 years old.
What started out solely as a means of providing for his family soon turned into a passion. In 2007, Yao was spotted by a talent scout during a street performance in the US and was urged to audition for Cirque du Soleil's new show Kooza.
Yao has since been performing a solo segment during the two-hour show, using his hands to balance on a tower of chairs as high as 8 meters.
Now, after following the famous circus troupe to 18 countries and performing for 6.85 million people over the past decade, the 40-year-old will finally get to perform at home.
"Of course the Chinese will love it. Every time I go back to China and tell people I am an artist for Cirque du Soleil, I'm always asked when the troupe will perform here. And here we are," said Yao during an interview with China Daily USA, prior to a news conference in Beijing on July 14 to announce the launch of the show.
Though Cirque du Soleil debuted in China 10 years ago, this is only the second time that the Canadian circus and entertainment company has brought its show to the country. It also marks the first time its artists are performing in China since Chinese conglomerate Fosun Group acquired a 25-percent share in the company in 2015.