Grand outdoor show gives performance new light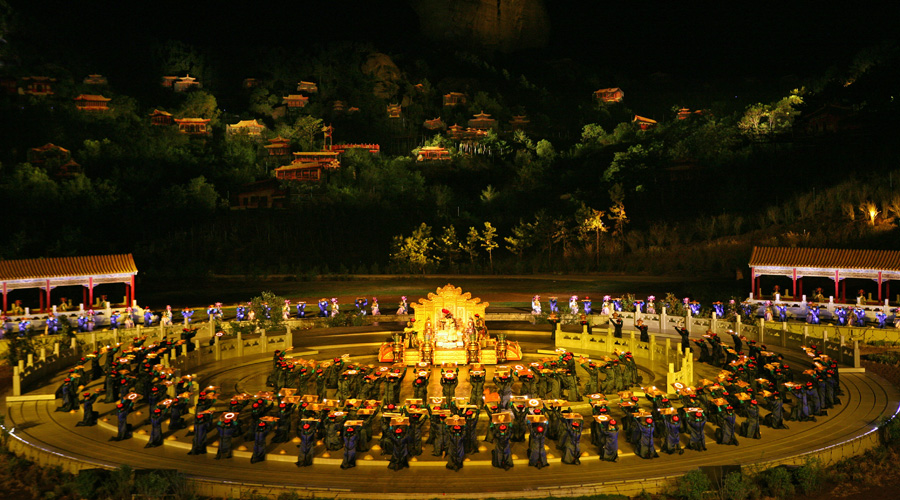 A panoramic view of the fantastic outdoor show Peak Dynasty and Emperor Kangxi Grand Ceremony. [Photo provided to chinadaily.com.cn]
 You may have seen plays in a theater with an enclosed stage, lights and sound equipment.
But would a fantastic outdoor show with mountains and rivers as the backdrop create an even better experience?
That's what the outdoor show Peak Dynasty and Emperor Kangxi Grand Ceremony offers.
Since its debut in Chengde city, North China's Hebei province, in 2010, it has become a sensation both at home and abroad.
Centering on the splendid culture and historical stories of the Qing Dynasty (1644-1912), the performance is divided into five parts including the preface, epilogue and three other parts introducing the beautiful natural scenery, Emperor Kangxi and the royal family legend.
The valleys, hills, summer breeze and gurgling streams are all elements contributing to the three-dimensional sound effects.
"The show is unique, stunning and breathtaking. My husband and I loved it so much and we plan to see it one more time since we have one more night in Chengde," said Marcia Becherel from Australia.
Organized by the Dingsheng Cultural Industry Investment Company, the director of the show Mei Shuaiyuan is pleased to witness the number of viewers grow in recent years.
"The show was performed at Yuanbao Mountain, 10 kilometers away from Chengde city, but the distance could not cool the viewers' passion down," said Mei, "As Chengde has embraced its peak period of tourism, our company has taken many actions to ensure visitors a happy journey in Chengde."
In recent years, the company has paid close attention to upgrading infrastructure and enhancing brand reputation.
"At the current stage, a grand cultural performance in one city is not alone in promoting tourism, it should be integrated with other links including accommodation, restaurants, leisure activities and shopping. Only in this way can a mature cultural chain be established," said Zhang Youguang, professor at Peking University.
Since its premiere, the show has been performed more than 1,000 times, and obtained a monetary turnover of over 100 million yuan ($4.81 million).