Lifetime award for Chinese poet at British cultural festival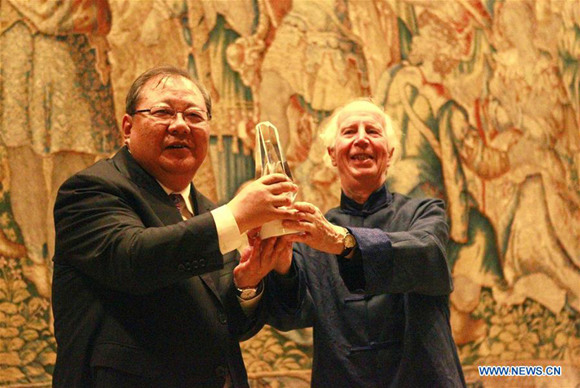 Chinese poet Jidi Majia (L), vice-president of the China Writers Association, is awarded Lifetime Achievement Prize of Silver Willow during the third Cambridge Xu Zhimo Poetry Art Festival at the Cambridge University's King's College in Cambridge, Britain, July 29, 2017. [Photo/Xinhua]
Chinese poet Jidi Majia was awarded the Lifetime Achievement award at the third Cambridge Xu Zhimo Poetry Art Festival, which opened on Saturday at Cambridge University's King's College.
The organizing committee praised Jidi Majia's work as one of the most eminent contemporary poets in China.
Highlighting the role of poetry in communication, Majia said in his acceptance speech that "it is gratifying to note that when many confrontations or potential confrontations occur, poetry miraculously becomes the most secretive way for communication among human spirits and mind."
"In that space, Eastern poets, Western poets, Jewish poets and Muslim poets can find the joy and resonance the human spiritual and ideal world created by poetry."
The festival will see about 200 poets, writers, calligraphers and scholars from all over the world gather to read poems, exchange ideas, and hold seminars and exhibitions.
The King's Choir will also perform Molihua (Jasmine), which originated as a folk song in Jiangsu province.
The festival began in 2008 to honor renowned Chinese poet Xu Zhimo, who wrote Saying Goodbye to Cambridge Again and is an alumni of King's College.
The institution placed a stone inscribed with Xu Zhimo's best-known poem under trees on the bank of the River Cam in tribute to his contribution to Sino-British cultural exchanges.
Over the past decade, many Chinese tourists have come to King's College to see the stone.
The festival is co-hosted and organized by the "Cambridge Rivers Project", Cambridge Rivers Press and Development Department of the King's College.
After three years' development, the festival has become one of the largest and most influential Sino-British cultural exchange activities in the United Kingdom.