'Fortress Besieged' adapted in the digital market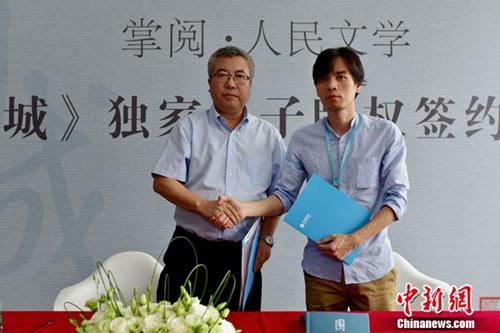 Zang Yongqing (left), president of the People's Literature Publishing House, and You Ting (right), vice president of iReader, sign the authorization. [Photo/Chinanews.com]
A new edition of Fortress Besieged, a satirical masterpiece by Qian Zhongshu, a Chinese writer famous for his wit and erudition, will be released this week, the People's Literature Publishing House announced.
To prevent digital piracy, the publisher also authorized iReader, a national reading platform based in Beijing, to have the book's exclusive digital copyright.
"All the digital versions of Fortress Besieged other than the iReader edition are pirated," said Zang Yongqing, president of the People's Literature Publishing House. "This novel has been popular among generations of young people. As a publishing agency, we want to offer them the best reading experience."
"This is a good chance to promote digitalization of classical works. iReader hopes to build a better environment for electronic publishing," You Ting, vice president of iReader, said. The company purchased the sole digital copyright of the novel for 1 million yuan ($148,200).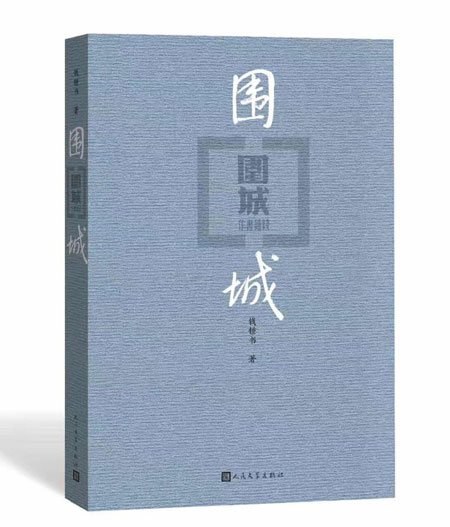 The latest edition of Fortress Besieged by the People's Literature Publishing House. [Photo/Official Weibo account of People's Literature Publishing House]
First published in 1947, Fortress Besieged tells the story of middle-class Chinese society in the 1930s. It is widely considered a masterwork in modern Chinese literature. Due to its profound public influence and popularity, the book was adapted into a TV drama in the 1990s.
"Marriage is like a fortress besieged: those who are outside want to get in, and those who are inside want to get out." This is probably the most famous quote from the book, which creates the fortress besieged metaphor. Chinese people still use the phrase in spoken and written form.
The novel has been translated into many languages. Its first English version came out in 1980. In 2006, another updated version was published by the Penguin Classics.