Dynamic duo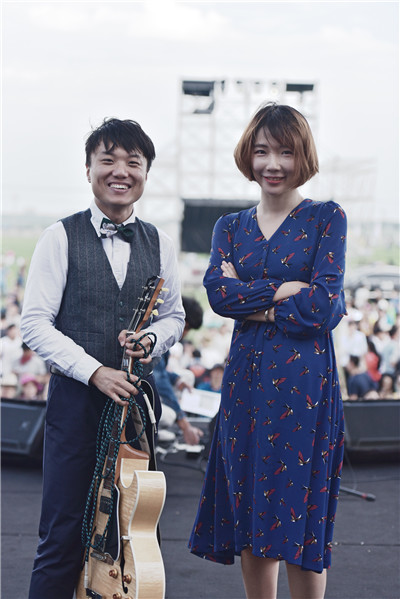 Du Kai (left) and Liu Lian stand out among their peers for their original jazz-pop rhythms and storytelling lyrics. [Photo provided to China Daily]
Ge, 44, who graduated from Sichuan Conservatory of Music and majored in percussion performance, has played in his own rock band and worked as music producer at a mainstream entertainment company. In 2009, he co-founded the indie music label, Cao Sheng Music, with Taiwan veteran songwriter and producer Chou Chih-ping.
"We founded our own label with the hope of supporting independent original Chinese musicians. The award given to Mr. Miss boosts our confidence we can do that," says Ge.
He says what appealed to him was the duo's songs, despite being jazzy, were accessible to audiences.
"I was impressed by their music. Jazz is not a mainstream genre in China but their interpretation of jazz made their songs easy to listen to and understand," says Ge, who also produced the duo's first album.
"The only thing we were concerned about in the beginning was they didn't have enough original material. But they worked very hard to write their own music instead of adapting some classic pop songs into jazz. Though it took them seven years to finally release their debut album, it's been worth it," says Ge.
Their first original song was called The Story of Mr. Miss, which Liu wrote in about a week. It is included in their debut album, along with 10 other original songs.
Thanks to Du's research into vaudeville, a form of theatrical musical play, which was popular in the United States from the 1880s to 1930s, Mr. Miss stands out among their peers for their original jazz-pop rhythms and storytelling lyrics.
"When you look at the history of Broadway musicals, you find many jazz standards. Looking further back, we discovered vaudeville," says Du. "Our lyrics portray images, which are suitable for telling stories to the listeners. With our interaction onstage, it's easy and fun to bring listeners into a particular scene."
They also used The Great American Songbook, also known as "American standards", for inspiration and polished their performing techniques via streaming shows.
Later this year, the duo will undertake a national tour of major cities, such as Beijing, Shanghai and Chengdu, as well as performing at outdoor music festivals, such as Zhangbei Music Festival, which will be held from July 28 to 30 in Zhangbei county, Hebei province.
Contact the writer at chennan@chinadaily.com.cn