Confucius museum to open in 2018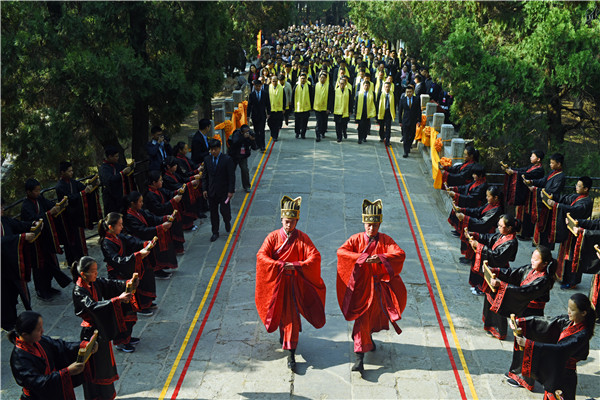 Qufu, the hometown of Confucius, hosts a ceremony to pay tribute to the sage on April 2. [Photo provided to China Daily]
A Confucius museum under construction in the hometown of the ancient Chinese educator and philosopher will be home to more than 700,000 relics, including well-known Confucius family documents, sources with the museum said on Saturday.
A display plan of the museum, which is expected to open in the second half of 2018, was finalized following a meeting in Qufu city of Shandong province earlier this month.
The major museum complex in Qufu consists of an 11,000-square-meter display area, 7,000 square meters of warehouses and a 1,000-square-meter cultural heritage restoration center, says deputy curator Yang Jinquan.
The items to be displayed on rotation include more than 300,000 documents of the Confucius family from the Ming Dynasty (1368-1644) up to 1948 that contain details of the family history during feudal times.
In addition, there will be more than 40,000 books dating back to the Song Dynasty (960-1279) and more than 8,000 pieces of clothing and accessories from the Ming and Qing (1368-1911) dynasties.
Confucius (551-479 BC), an educator and philosopher, founded Confucianism, a school of thought that deeply influenced later Chinese generations.