Mainland audiences losing interest in Hong Kong action movies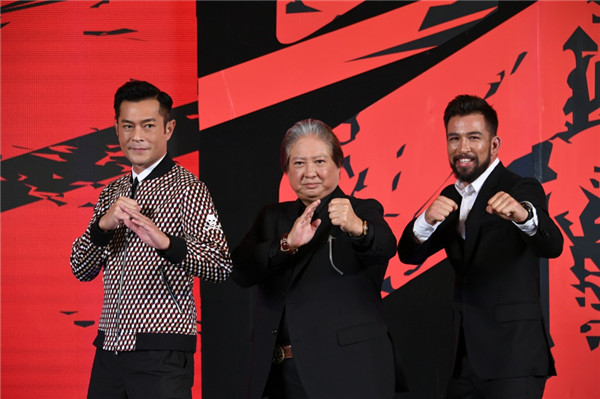 Sammo Hung (center), action choreographer of the upcoming thriller Paradox, with Hong Kong actor Louis Koo (left) and American actor Chris Collins at a promotional event in Beijing. [Photo provided to China Daily]
Sammo Hung hobbles into the interview room on a crutch. He sits, looking exhausted and holding a palm-sized electric fan near his face.
For a moment, it is a bit difficult to connect this man with Hong Kong action cinema.
But speaking about his stunt coaching for Louis Koo-one of Hong Kong's current stars-Hung is filled with excitement.
"He fights well. Before the filming, I design the stunts and record the action scenes performed by (stand-in) stuntmen.
"Koo watches the clips and practices them," says Hung, speaking about the upcoming action thriller Paradox.
The movie is set to open across the Chinese mainland this summer.
Paradox, which is the third installment of the Sha Po Lang (referring to three stars in Chinese astrology, capable of good and evil) franchise-a hit action franchise acclaimed for its real fights-marks the return of Hung as an action choreographer.
Hung and Donnie Yen-who became a top martial arts star thanks to the first SPL movie-starred in the 2005 film.
But in the new movie, Hung says that he wants to focus on action. So he chose to go behind the camera.
Wilson Yip, the veteran Hong Kong director known for the biographical martial arts franchise Ip Man, has directed the new movie.