Museum will preserve site of 'earliest China'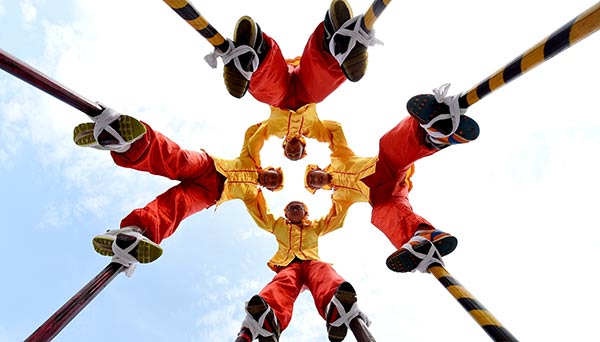 Students in Yiwu, Zhejiang province, perform traditional stilt-walking to celebrate China's first "Cultural and Natural Heritage Day" on Saturday. Around the nation, activities were held in honor of the day. GONG XIANMING/CHINA DAILY
The construction of a museum on a cultural heritage site with more than 3,500 years of history, often referred to as "the earliest China", began on Sunday in the city of Luoyang in central Henan province.
The Erlitou site, named after its surrounding village, was discovered in 1959 and was later found to be the site of a capital of the Xia Dynasty (21st century to 16th century BC).
"Cultural relics connect the past, present and the future. They are witnesses of Chinese civilization, which has a long history yet keeps its vitality," Premier Li Keqiang, who once visited the relics when he worked in Henan, said in a congratulatory letter for the groundbreaking ceremony on Sunday.
"The city relic has a magnificent atmosphere and the cultural relics unearthed here are of abundant types and elegant looking. These archaeological discoveries have deepened our understanding of first development of Chinese civilization."
Li suggested modern technology must be put to good use in the museum to preserve, protect, study and educate on the site.
The groundbreaking ceremony served in a larger sense as a major event in China's celebration events for national "Cultural and Natural Heritage Day," which falls on Saturday.
The new museum will cover an area of about 30,000 square meters, costing 630 million yuan ($93 million), and is scheduled to open to the public in 2019, said Liu Wankang, mayor of Luoyang. The museum is listed among the key cultural projects of China's 13th Five-Year Plan (2016-20).
"There have been many crucial archaeological discoveries in Erlitou in the past decades," said Chen Xingcan, head of Institute of Archaeology of the Chinese Academy of Social Sciences. "For example, we've detected the earliest capital city relics in East Asia and China's oldest royal palace relics."
China's earliest known urban road network and bronze ware workshop were also found in Erlitou, he said.
According to Chen, the Erlitou culture, of roughly 1800 to 1500 BC, absorbed elements from different civilizations within a short time and had wide influence along the middle reaches of Yellow River in its time.
"In its era, society stepped beyond a time when many competitive political entities coexisted, and formed a unified country," he explained. "Its legacies were inherited by later dynasties and became the mainstream of Chinese civilization."
Starting in the Xia Dynasty, Luoyang was the capital of 13 kingdoms and empires throughout ancient Chinese history.
Rather than merely housing the abundant artifacts unearthed at the site-including bronze ware, jade, and lacquer ware-the museum will serve as a comprehensive academic research hub on the formation of early-stage states in ancient China, Chen said. An archaeology-themed park will follow.
"The construction of the museum and park sets an example on revitalizing relics, which were long buried beneath the ground, and benefit the local people's livelihoods and economy," said Gu Yucai, deputy director of the State Administration of Cultural Heritage. "It will increase the public's cultural self-confidence."