CNSO holds concert to mark Li Delun centenary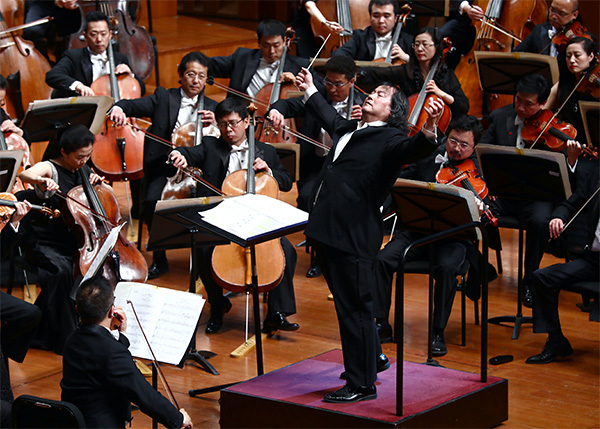 Conductor Tang Muhai conducts the first movement of Earth Requiem by Guan Xia. [Photo provided to China Daily]
The China National Symphony Orchestra held a concert to commemorate the centenary of Chinese conductor Li Delun (1917-2001), the father of classical music in China, at the National Center for the Performing Arts in Beijing.
Nine Chinese conductors who learned with or worked with maestro Li conducted at the event.
Tang Muhai started the concert by conducting the first movement of Earth Requiem composed by Guan Xia, the head of the China National Symphony Orchestra.
He was followed by Shao En conducting Beethoven's Symphony No 5, which Li performed with the Central Orchestra in 1977, right after the end of the "cultural revolution" (1966-76).
Then, Hu Yongyan conducted Mozart's Violin Concerto No 3 in G Major.
In 1999, Li conducted the CNSO featuring violinist Isaac Stern (1920-2001) in Beijing to commemorate the 20th anniversary of Stern's first trip to China.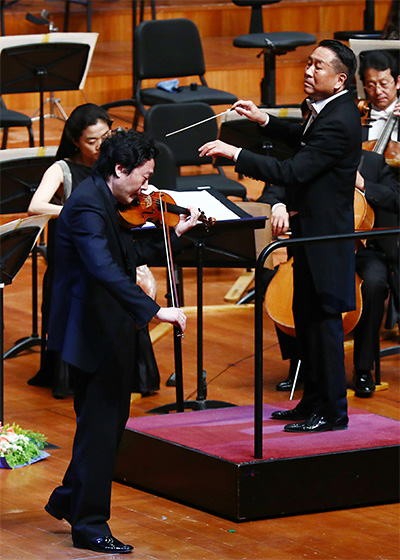 Lyu Siqing (left) performs Mozart's Violin Concerto No 3 in G Major under the baton of Hu Yongyan (right). [Photo provided to China Daily]
In 1979, Stern became the first US musician to collaborate with the Central Symphony and teach master classes at Beijing's Central Conservatory of Music. The trip was covered in a documentary film, From Mao To Mozart and won the 1980 Academy Award for best documentary feature.
Yu Long, arguably China's best-known conductor in the world nowadays, conducted Tchaikovsky's Symphony No 6 in B Minor. In January 1958, Li conducted the piece at his first concert with the CNSO after he returned from the Moscow Conservatory.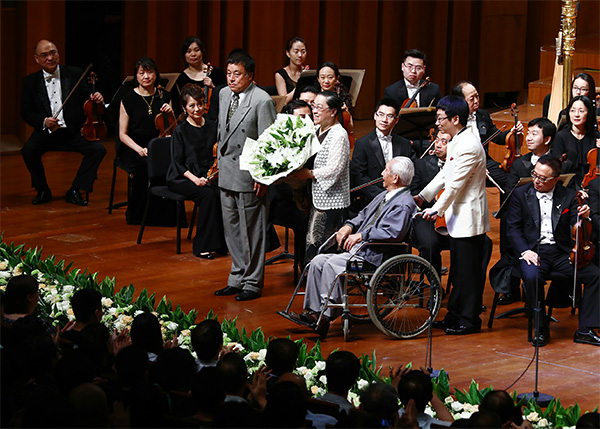 (From right to left) Conductors Li Xincao and Han Zhongjie, 97, and Li Lu and Li Su, daughter and son of Li Delun. [Photo provided to China Daily]
Born into an official's family in Beijing, Li started to learn music when he joined the school orchestra of Fu Jen Catholic University of Peking where he majored in history.
In 1940, he was admitted to the Shanghai Music Institute to learn the cello.
He went to study conducting at the Moscow Conservatory from 1953 to 1957.
In the 1950s and '60s, he gave regular "weekend concerts" in Beijing to promote classical music. During the "cultural revolution", he initiated moves to make the yangbanxi (the eight revolutionary Peking Opera repertoire) into a symphonic piece to help the orchestra survive.