Testing success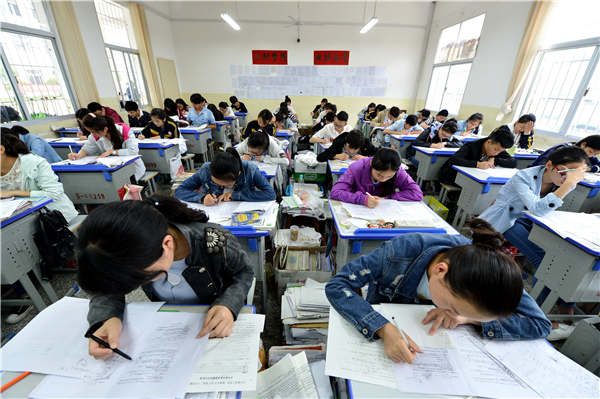 High school students prepare for the exam in Baokang county, Hubei province. YANG TAO/VCG
Former top scorers on the national college entrance exam describe their understanding of the test's true meaning and consequences. Many say it's more about future options rather than guarantees. Wang Kaihao reports.
The pressure is on. The country's high school graduates are beginning one of the most important events of their lives on Wednesday-the national college entrance exam, known as the gaokao in Chinese.
But its top scorers from previous years suggest the test results' impact on their futures may not exactly match their expectations later in life.
About 9.4 million students are taking this year's test, which lasts two to three days, depending on the province, Ministry of Education figures show.
Their scores will, indeed, largely decide their future. Only a small number of top scorers can get into elite universities.
Tsinghua University freshman Xiao A (not her real name) says the test enabled her to realize her childhood dream of entering a leading college.
"It tested my potential and proved to me that I'll succeed if I work hard," the 19-year-old tells China Daily via WeChat.
The student from a provincial capital in southern China earned over 700 points out of 750, the highest score among liberal arts students in the province last year.
"Not much changed after I got first place," she says.
"Some people around me are smarter. So, I have to continue to work hard."
She declines to offer tips for candidates in such a "casual chat".
But she did detail advice in a newspaper interview in her hometown last year. The story revealed she didn't only earn high grades in class but also joined extracurricular activities.
"We expected her to take the top score," her high school's head teacher says.