First Qi Baishi exhibition to open in Seoul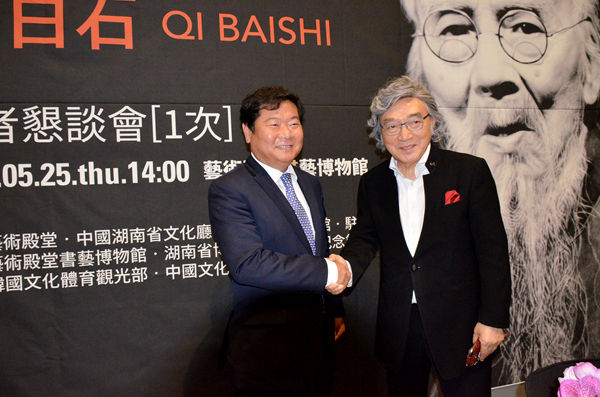 Shi Ruilin, cultural counselor at the Chinese embassy in South Korea, and Ko Hak-chan, president of the Seoul Arts Center, May 25, 2017. [Chinaculture.org]
The upcoming show in Seoul is jointly organized by the Chinese embassy in South Korea, the Chinese Cultural Center in Seoul, the Hunan Provincial Cultural Department and the Seoul Arts Center.
Speaking at the news conference on Thursday, Shi Ruilin, cultural counselor at the Chinese embassy and head of the Chinese Cultural Center, said: "The art of calligraphy and painting is created by artists in Eastern countries including China and South Korea, and admired by people worldwide. The unique art form has made contributions to the development of world culture and the progress of human civilization."
"We are hosting this special show of Qi Baishi at this special moment of the year in order to inherit and spread the essence of Eastern arts, to start a dialogue with the world civilization, to promote a healthy and stable relationship between China and South Korea, and to make contributions to world peace," Shi continued.
Ko Hak-chan, president of the Seoul Arts Center, said: "We're honored to hold the show at this special moment, in the year of the 25th anniversary of the South Korea-China ties. We hope the show will further promote relations between the two countries. At the same time, we hope to offer an opportunity to help South Korean artists and the general public further understand Qi Baishi's art world. "