First Qi Baishi exhibition to open in Seoul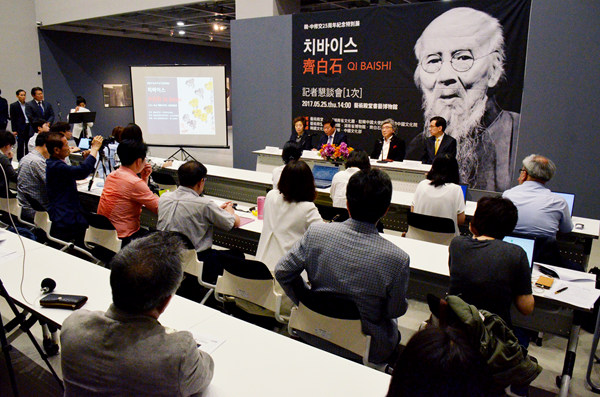 Media are briefed about the upcoming exhibition of Chinese modern artists Qi Baishi at a news conference in Seoul on May 25, 2017. [Photo/Chinaculture.org]
South Koreans will get their first chance to have a close look at the artwork of Chinese modern art master Qi Baishi, hailed as China's Pablo Picasso.
Qi's masterpieces will go on show at the Seoul Arts Center from July 31 to Oct 8, as part of the cultural events to celebrate the 25th anniversary of the establishment of diplomatic ties between China and South Korea. It will also be the first time Qi's works have been showcased in South Korea.
The exhibition, From a Carpenter to a Master, will feature 50 works, including scroll paintings, calligraphy and wood carvings. More than 80 antiques Qi collected during his lifetime will also be displayed, together with over 30 calligraphy works by both Chinese and South Korean calligraphers to remember the late master. 
Qi Baishi (1864-1957), born into a farming family in Central China's Hunan province, became a carpenter at the age of 14 and began studying art at 27. After traveling throughout China, he settled in Beijing in his late 50s and developed a unique style, boldly blending his mark as an individual with traditional Chinese painting methods.