Connecting thoughts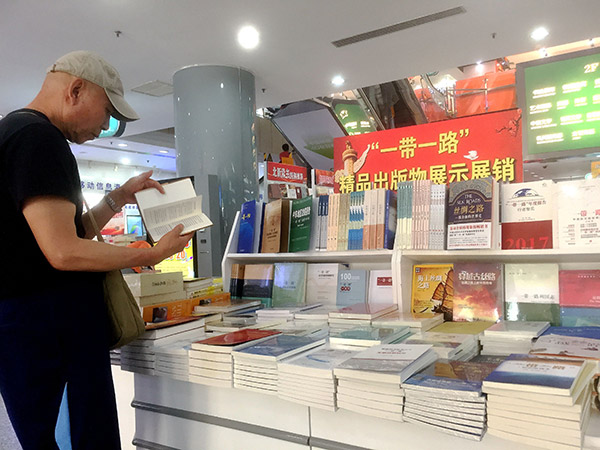 A reader flips through new books on the Belt and Road Initiative at a Beijing bookstore.[Photo provided to China Daily]
Wang Wen, executive director of Chongyang Institute for Financial Studies of Renmin University, says the book illustrates well China's contribution to the world and shares its experiences from the start of the initiative.
"It's rare to see a book telling such stories from a foreigner's perspective," says Wang.
In that light, Xinhua News Agency, the State-owned Assets Supervision and Administration Commission and the Confucius Institute have jointly released a series in different languages, called The Belt and Road: People with Stories, inviting people from the countries involved with the initiative to share personal experiences.
Last week, the Foreign Languages Press also released a book titled Headway on the Maritime Silk Road in around 10 languages, including Chinese and English.
Based on a CGTN (formerly CCTV) documentary by the same name, the key element of the book is the use of 30 characters from more than 10 countries. It tries to combine three navigators' stories along the same sea route, but they span 1,500 years. And it also tells stories of families that safeguard traditional handicrafts like embroidery, Buddhist sculptures and porcelain items.
"The book is a cross-media cooperation. It tells about big strategies with small anecdotes," says Xu Bu, president of the press.