Book details Tokyo Trial, keeping memory of postwar tribunal alive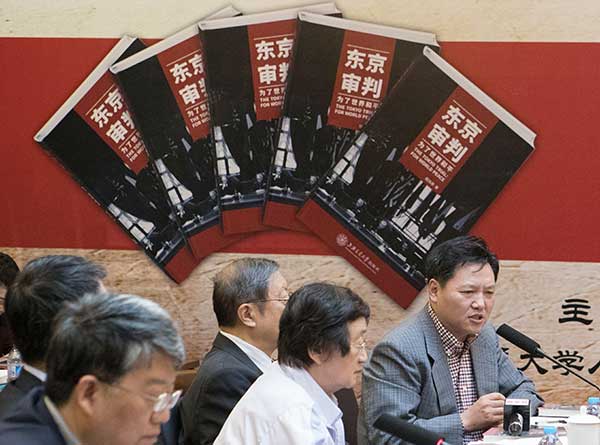 Cheng Zhaoqi, author of The Tokyo Trial: For World Peace and director of Shanghai Jiao Tong University's Center for the Tokyo Trial Studies, speaks at the premiere of the book at the university on Tuesday.[Photo by Gao Erqiang/China Daily]
A book outlining the history of tribunals for accused Japanese war criminals, and its far-reaching impact, made its debut in Shanghai on Tuesday.
The Tokyo Trial: For World Peace, showcases the latest viewpoints and evidence collected by researchers in China, Japan and the West, said Cheng Zhaoqi, the book's author and director of Shanghai Jiao Tong University's Center for the Tokyo Trial Studies.
"We present the readers with a more substantial and objective legal basis of the whole process, from the establishment of the court and the disputes over jurisdiction to the court trials and the discussion of sentencing and measurement of penalties," he said.
The book will be translated into eight languages, including Japanese.
On May 3, 1946, the post-World War II trials, known as the International Military Tribunal for the Far East, began in Tokyo. The tribunal was active until Nov 12, 1948.