Soprano to sing French art songs in Chinese cities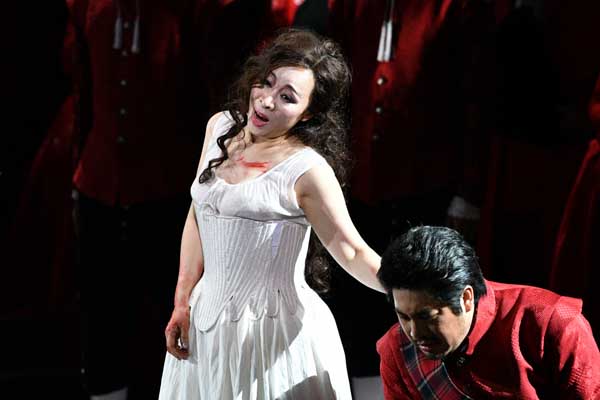 [Photo provided to China Daily]
"The Chinese audience likes operas because the scenes are grand and singers usually perform in high-pitched voices. In contrast, art songs are only arranged for a singer and an instrument, like the piano. It takes time and patience to immerse oneself into such music and atmosphere."
In 2012, Zhang performed Western art songs at a concert in Beijing, and two years later, she released the album Schubert: Night and Dreams, in which she sings 18 romantic art songs by Austrian composer Franz Schubert.
In 2014, she also sang Chinese art songs, including works by poet and composer Jiang Kui from the Song Dynasty (960-1279) and extracts from the Chinese opera Xi Shi.
In 2009, Zhang played the lead role in the opera that was staged at the National Center for the Performing Arts in Beijing.
To appeal to the audience at home, Zhang has adapted several Chinese pop songs into art songs, such as The Evening Primrose and Olive Tree.
"China once had beautiful art songs, especially Song poetry, which was sung along with a guzheng (Chinese zither). But nowadays, people have lost interest in such songs and some don't even know what art songs are," Zhang says, adding she plans to release an academic collection and perform Chinese art songs for her students first and then for the general audience.
Born in Wuhan, Hubei province, to a classical musician and a dancer, Zhang received her vocal training at the Wuhan Conservatory of Music and graduated from the vocal opera department of the Central Conservatory of Music, where she now teaches, in 1989.
As a student, she performed with Spanish tenor Placido Domingo, and the big break inspired her to pursue opera in the West by studying with Canadian soprano Phyllis Mailing at the Vancouver Academy of Music.
In 1997, she moved to London and started her career.
Besides her signature role as Cio-Cio-San in Madame Butterfly, Zhang also won acclaim for her roles as Mimi in La Boheme and Gilda in Rigoletto at major opera houses.
"I hope I can provide more opportunities to the young generations of singers in China like by inviting them to perform with me at concerts in the future," Zhang says.
Young Chinese musician Zhang Jialin will play the piano accompaniment for the soprano during her upcoming concerts.