Rising star in ballet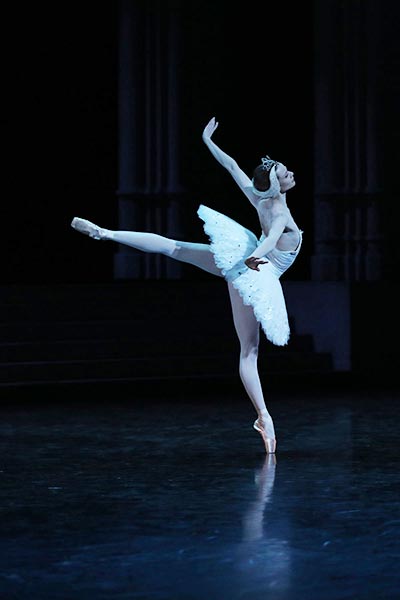 Léonore Baulac in Swan Lake [Photo by Svetlana Loboff/China Daily]
Léonore Baulac is the new principal dancer of the Paris Opera Ballet, one of the most selective ballet companies in the world alongside Moscow's Bolshoi Ballet and London's Royal Ballet. At just 26 years old, she's achieved the highest rank – here, she shares her rise to the top and her lifetime of dance, both on and off the stage.
Was it your dream of a lifetime to become a principal dancer?
Indeed! I started dancing when I was four years old. At 11, I took part in a competition with my favourite dancer, José Martinez, as a member of the jury – I even had a poster of him in my bedroom at the time. I received the gold medal and since that day I dreamt of becoming a danseuse étoile [principal dancer] so that I could dance with him.
The world of dance is known as an extremely tough environment. Is it?
Well, when you're so committed to ballet, you don't have the same adolescence as others – I wasn't a party girl. But it wasn't a sacrifice; it was my choice. As for the cliché about the bad atmosphere at dance school, think of this: what happens when dozens of young girls are gathered in the same room? At that age, whether you dance or not, you're not the sweetest creature on earth.
Let's talk about the big day – how did you feel when Aurélie Dupont [the Paris Opera's new dance director] and Stéphane Lissner [the Paris Opera's director] made the announcement?
It was crazy! Of course, there were favourable circumstances, as it was the first time I danced Odile/Odette in Swan Lake, a leading role with Germain Louvet [who was appointed principal dancer a few days before Baulac] on New Year's Eve. But I was actually 100% focused on my interpretation in order to do the best possible show – and not thinking about a promotion. It's not good to dance while thinking, "If I don't dance well tonight, I won't be promoted." One, you never know what will happen and two, you prefer to think it won't happen anyway in order to keep the stress away.
So when I saw them climbing on stage at the end of the ballet, I thought, "Okay, they're here for me. Enjoy it, this is your moment – it only happens once in a lifetime." You know, it's very strange to be alone in front of 3,000 people – I bowed at least 12 times! In the past, whenever I looked at my watch and it was 11:11 or 22:22, I used to wish I would become a danseuse étoile. Now that it's done, I wish for peace in the world! [laughs]
What repertoire would you like to explore in the next few years?
I love to tell stories, to play characters and to move my audience to a different universe. I would love to dance in Pina Bausch's Rite of Spring. It must be a very different experience. The first time I saw it, I had an aesthetic shock. The dancers are barefoot, wild and covered with dust – the audience can even hear them breathing. This ballet gives a very special collective effect that I'd love to experience. As for the more classical repertoire, I love dramatic love stories. I really enjoyed dancing Juliet in Romeo and Juliet; the costumes were amazing. I would also like to dance in Onegin, Manon and Giselle. There's this amazing scene in Giselle when she turns mad; I'm sure it's a real thrill to dance.
What changes when you become a soloist?
A few years ago, when I was working on The Nutcracker with Germain Louvet, and it was my first great role, I remember that Aurélie Dupond prophetically told us, "You two will be soloists one day, I'm sure. You should prepare yourselves. Whether you want it or not, it will come and it's not an easy thing to deal with."
And she was right – being a soloist is very challenging. When people come to see an étoile, they expect something extraordinary and you have to give it to them, even if you're having a bad day. There's nobody you can hide behind. And there are a lot of things you have to think about as a soloist. I remember one night I danced Clara in The Nutcracker and the neck of the doll was broken. So I spent half of the ballet keeping the head on the bust in order to maintain that fairytale mood and not let it turn into a horror show. These are the kinds of things one cannot imagine from the outside.