Home / Culture / Film and TV
For the love of food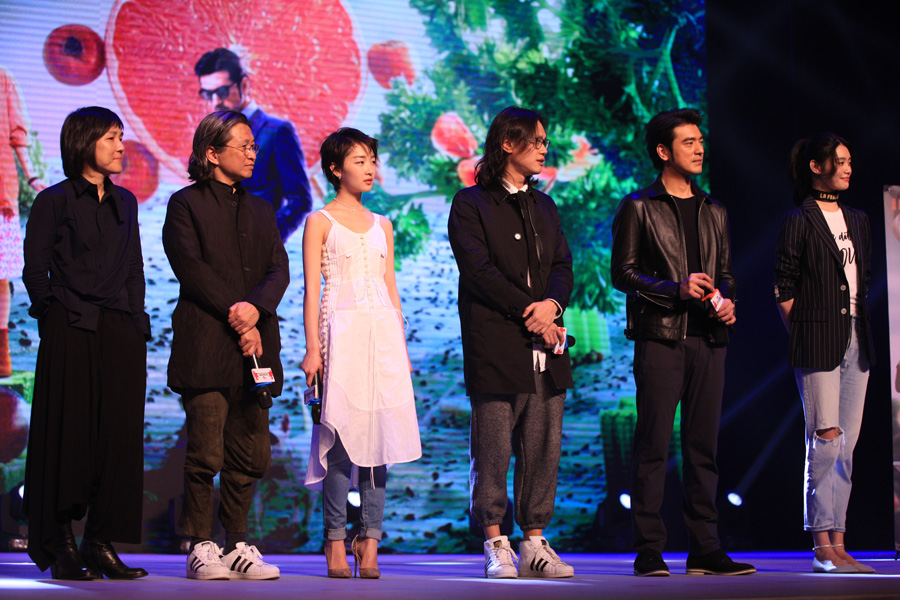 The cast of the movie This Is Not What I Expected are invited to takes part in the movie premiere at the 24th Beijing College Student Film Festival. [Photo provided to chinadaily.com.cn]
As the opening film for the 24th Beijing College Student Film Festival (BCSFF), the love-comedy This Is Not What I Expected unveiled its mask to the audience in advance at Beijing Theater on April 8.
The film cast, including director Xu Hongyu, executive producer Peter Chan, actor Takeshi Kaneshiro, actress Zhou Dongyu and Xi Mengyao, were all invited at the opening ceremony of BCSFF and met with college students and movie-goers.
The film mainly tells the story of a romantic encounter between an overbearing CEO and a special girl due to food. In the film, Zhou Dongyu acts as talented chef master Gu Shengnan who can integrate recipes with human feelings while the CEO Lu Jin, played by Takeshi Kaneshiro, is a successful businessman but is very particular about people and food.
The ups and downs between the two people delight the movie storyline. Meanwhile, the tasty food element adds glamour to the entire movie.
Usually, a movie premiere takes place several days before hitting the big screen. But This Is Not What I Expected was premiered 20 days in advance.
 "This is really risky, but we have confidence about the box office," director Xu said, "The movie is in line with the theme of the film festival and it is my honor to see it mark as the opening film for the whole festival."
"It is a touching movie and we have done a lot for it. For instance, I paid a visit to a cooking school for five days and tried to learn practical cooking skills, which makes me behave more like a chef in the film," Zhou said.
The movie will be officially released on April 28, and represents another work by the Peter Chan film team after the award-winning Soulmate last year.