Peony Pavilion starts London theater run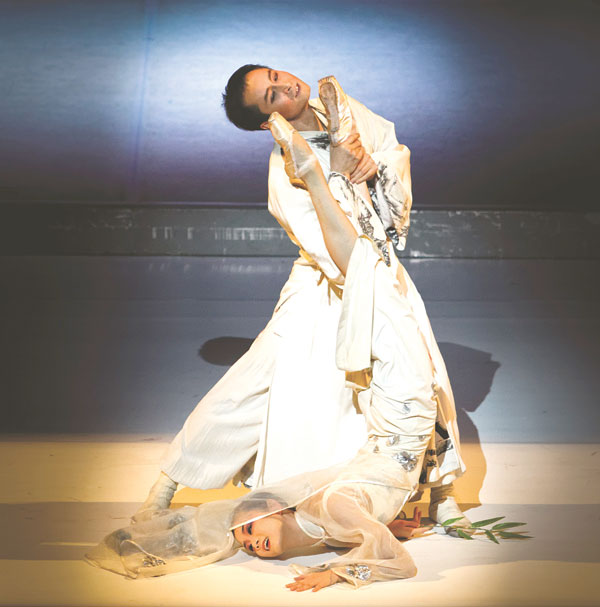 Wang Qimin and Li Jun perform with the National Ballet of China during its return to the London stage this week. [Photo provided to China Daily]
The National Ballet of China performed its version of The Peony Pavilion for the first time on a London stage this week-an adaptation of the 400-year-old Kunqu opera.
Alistair Spalding, artistic director at Sadler's Wells, said: "It's an absolute classic love story but it also has tragedy within it and that is what ballet is good at."
The Peony Pavilion is a contemporary take on Tang Xianzu's 16th century epic that originally featured 55 scenes and last 20 hours.
The two-hour adaptation is a mix of Western ballet and Chinese influences created by choreographer Fei Bo and artistic director Feng Ying.
"In order to bring this opera into ballet, the script was adapted to suit a dance performance," Feng said. "Our previous artistic director, Madame Zhao Ruheng, and another famous director, Li Liuyi, adapted the original script. Only a few episodes from the original opera were selected and that's how we can tell the story in two hours."
The tale focuses on Du Liniang, a young and wealthy woman who falls asleep and dreams of Liu Mengmei, who she falls in love with in her dream but cannot find in real life. Du dies of a broken heart but is sent back from the underworld to the land of the living so she can find her love.
Choreographer Fei Bo said the company wanted to introduce Western audiences to an Eastern philosophy of love.
"We try to analyze the heroine of the performance in depth and find a contemporary explanation for our audience," said Fei.
Feng added: "Whether it is a Chinese or Western audience, we would like to show our interpretation of this great romantic literature because, in this story, we talk about Chinese philosophy. The idea of life and death, and also the cycle of life and reincarnation. The other important theme is the pursuit of love in reality or in the spiritual world."
The production completed a five-night run in Manchester last week.
The event highlights the growth in cultural links between the countries since President Xi Jinping's visit last year.