Village in Tibet holds spring ploughing ceremony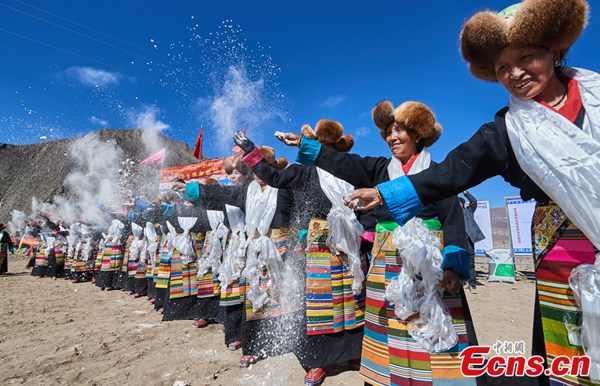 Villagers in festival costume scatter barley flour which is a tradition of giving best wishes. [Photo/China News Service]
March 16 marks the start of the spring ploughing day for many places in Tibet. Villagers in Mar village, Mar township, Doilung Dechen, Lhasa, all put on their festival costumes to celebrate this traditional day.
The spring ploughing ceremony is a traditional custom where prayers are said for favorable weather, and a good harvest for the Tibetans. The specific ploughing day varies in different years, depending on the Tibetan calendar.
This year's ceremony in Mar village was very different. Around 10 am, there were many agricultural machines with colorful decorations in the field, instead of the farm cattle that were seen in past years. Among them, four new subsoilers especially grabbed attention.
Sonam Phuntsok, the agricultural assistant of Mar village, said that the new subsoilers will increase the efficiency of farming. "We used to need two tractors, and we would spend a whole day ploughing ten acres of land, but now with just one subsoiler, 20 minutes will be enough."
When the ceremony began, the four subsoilers started moving slowly and digging up the soil. Behind them, women in Tibetan clothes spread seeds into the field, making wishes for a good harvest.
Sonam Phuntsok said that the spring ploughing this year is different because collective farming will be practiced. "Modern farm machines such as tractors, subsoilers and harvesters have replaced yaks that were used in the past. The increased agricultural mechanization not only means the increase of production, but also the liberation the workforce. Villagers can do other jobs now instead of having to spend time working in the fields," he said.
Gyatso, a villager in Mar, said that last year the average output of barley per acre in his field reached 300 kilos. He hopes that number will be doubled this year. "I have had to get up early in the morning to work previously, but now I can sleep a little longer every day," he said.
"This year, the ploughing ceremony is a grand one. Many villagers who are working in the town have come back to celebrate. Because the collective farming mode will be used, our income will be composed of land rent, wages and a year-end bonus. I believe we will earn more than before."
According to official data, as of 2016 the contribution rate of agricultural scientific technology has increased to 45.1 percent and the ubiquity of technology has reached 90 percent. In addition, the per capita disposable income of rural residents in Tibet reached 9,316 yuan, an increase of 13 percent, which has been growing at a double-digit rate for 14 years.
At the end of the ceremony, villagers danced in the field, singing their traditional songs and scattered barley flour for best wishes.