Carnegie Hall opportunity excites Chinese violinist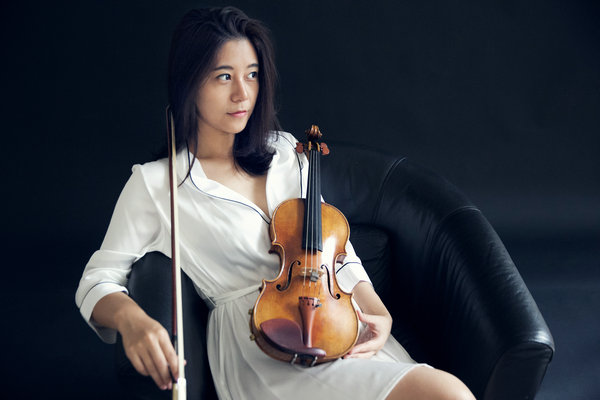 Wang Jiazhi will hold her first recital at Carnegie Hall later in March. [Photo provided to China Daily]
Carnegie Hall is about a 25-minute walk from Wang Jiazhi's apartment. It's a favorite place to visit for the Chinese violinist, who has watched recitals there many times.
On March 28, the 26-year-old will perform at the Weill Recital Hall at Carnegie Hall in front of nearly 300 people.
"It will be the first recital I give at the Carnegie Hall, and means so much to me," says Wang, who has performed as a chamber musician at the venue. "When I rehearse at Carnegie Hall, I would picture how I perform onstage and become nervous facing the empty seats. But when I perform in front of audiences, especially a full house, I feel very comfortable and happy."
Wang, who earned a master's degree in violin from Yale School of Music in 2016, regards the recital as a capstone for her time at Yale.
"The program list not only shows my musical ideas but also reflects who I am," says Wang, who will perform pieces including Beethoven's Violin Sonata No 3 in E-flat major, which has a light and happy mood, and Ravel's Violin Sonata No 2, which is influenced by jazz and blues.
She will also perform Tchaikovsky's Valse-Scherzo in C major, which won the violinist second place in the 2015 Washington International Competition For Strings.
In honor of her teacher, Chinese-American violinist Li Weigang, Wang will perform Dmitri Shostakovich's Five Pieces for two violins and piano along with Li.
"Traditionally, classical music is distant and serious but I hope audiences will feel happy and relaxed after watching my performances," says Wang, who will be joined by Hong Kong pianist Wong Wai-yin in her recital.
The violinist also sees her Carnegie recital as the completion of her studies in the United States.
Born in Ningbo, Zhejiang province, Wang began learning violin at the age of 4 with her father, Wang Bainian, and her uncle, Wang Baihong, who are both violinists.
Her parents played lots of classical music at home, but Wang also absorbed a variety of music genres, such as pop and jazz, which have inspired her musical interpretations.