What happens when VR meets RTS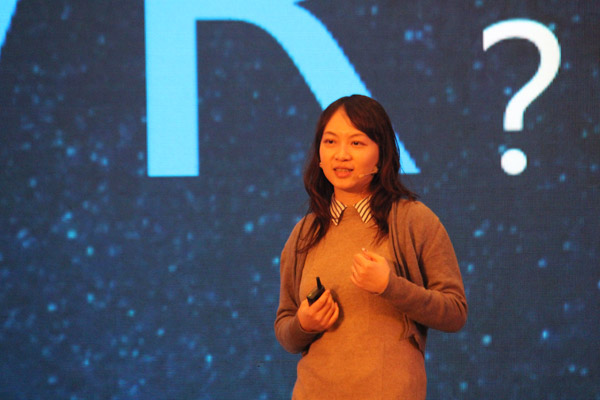 Xu Qiuzi, CEO of Realis, delivers the keynote speech at the Realis Global Brand Strategic Conference. [Photo by Zhang Xingjian/chinadaily.com.cn]
Virtual reality (VR) typically refers to the computer technology that uses software to generate realistic images, sounds and other sensations that replicate a real environment or even create an imaginary setting, simulating a user's physical presence in this environment.
Realis Tracking System (RTS) represents an independent research and development product that promotes several products applying the VR technology, characterized by high-accuracy, high-interaction and low cost.
On the theme of "Capturing Brilliance, Broadening Insight", the Realis Global Brand Strategic Conference kicked off at the China National Conference Center in Beijing on Wednesday.
Xu Qiuzi, CEO of Realis, delivered the keynote speech at the conference.
"2017 marks the key year for the booming VR technology. In comparison with other counterparts which pay more attention to the audio-visual experience aspect in the interaction process, Realis has moved forward in the field of VR large space walk."
"The VR large space walk represents a vital area in the global VR market, but is dominated by foreign producers. Realis, in the principle of independent research and development as well as technological innovation, sets out to create an offline interactive VR multimedia ecological chain featuring a high cost-effective performance."
In addition to the "Made-in-China" self-brand consciousness, Realis now covers a vast number of fields like the VR online experience store, VR gaming, education, disaster prevention, real estate, industrial robots and unmanned aerial vehicle. For example, the newly developed virtual game "Darwin Plan" and "Dungeon and Fighter" has extended the experience space to as large as 200 square meters where more than 10 players can walk freely in the three-dimensional space, rendering players a sense of intense reality.