Benin China Cultural Center receives Special Contribution Award at dance festival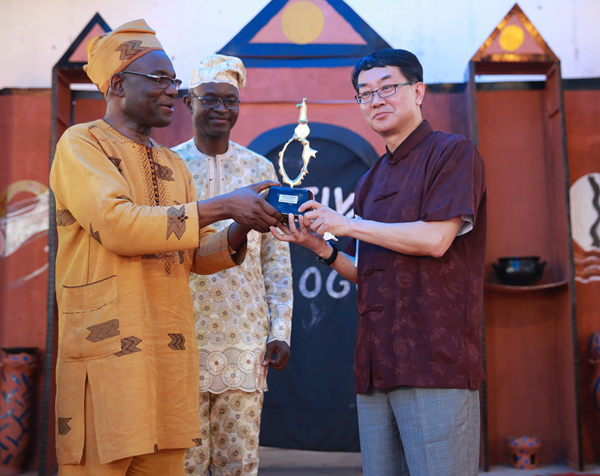 Benin's Tourism and Culture Minister Ange N'Koue presents the Special Contribution Award to Wei Jun, cultural counselor at the Chinese embassy in Benin and head of the Benin China Cultural Center, Jan 6, 2017. [Photo/Chinaculture.org]
The China Cultural Center in Benin has been recognized at the 8th Agogo International Dance Festival that ended on Tuesday. Benin's Tourism and Culture Minister Ange N'Koue presented the Special Contribution Award to the center, thanking the Chinese government for its contribution to the development of Benin's culture industry.
The China Cultural Center in Benin was set up in the West African country's capital Cotonou in 1988. It's the second cultural center that China launched in Africa, following the one in Mauritius in the same year.
The Agogo International Dance Festival, an annual festival started in 2009, was held in the Southern coastal city of Ouidah from Jan 6-10, featuring elite dance troupes from countries including Nigeria, Congo, Ghana, Senegal, France and Brazil.
A grand parade led the opening of the five-day event on Jan 6, attracting large crowds of local people participating in the carnival.