China Cultural Center opens in Belarus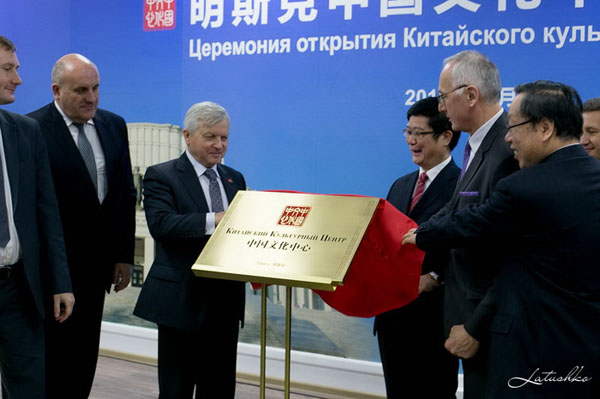 Ambassador Cui Qiming (third from right), Belarusian Cultural Minister Boris Svetlov (second from right) and other officials inaugurate Chinese Cultural Center in Minsk, Belarus, Dec 21, 2016. [Photo/Chinaculture.org]
A new China Cultural Center was inaugurated in Minsk, the capital of Belarus, on Dec 21, with China's Ambassador to Belarus Cui Qiming, Belarusian Cultural Minister Boris Svetlov and some 300 high-profile officials and guests from both countries attending the event.
"Exchanges and cooperation between China and Belarus nowadays are closer than any other time in history," said Cui at the ceremony.
"The establishment of the Minsk China Cultural Center is a major event in the two nations' cultural exchanges. I believe the center will give a full play in enhancing the understanding and friendship between the two peoples, and help build a more solid social basis for strengthening the comprehensive strategic partnership between the two countries," Cui added.
"Cooperation with China is among Belarus' priorities," said Svetlov. "The establishment of the Minsk Chinese culture center is iconic in the two nations' cultural relations."
Svetlov said that a Belarus Cultural Center is also expected to be established in China to further boost communications between people in the two countries.
The event also featured folk music performances from Chinese and Belarusian orchestras, Chinese Contemporary Ink Painting exhibition and 2016 China Story photo exhibition.
In May 2015, President Xi Jinping and his Belarusian counterpart Alexander Lukashenko made a joint statement to support the establishment of a Chinese cultural center in Belarus in a bilateral agreement signed during Xi's visit to the country.
In a month's time in January 2017, the two countries will mark the 25th anniversary of the diplomatic relations, which were established in 1992.
Related:
Xi, Lukashenko back Chinese cultural center in Belarus