Triumphant return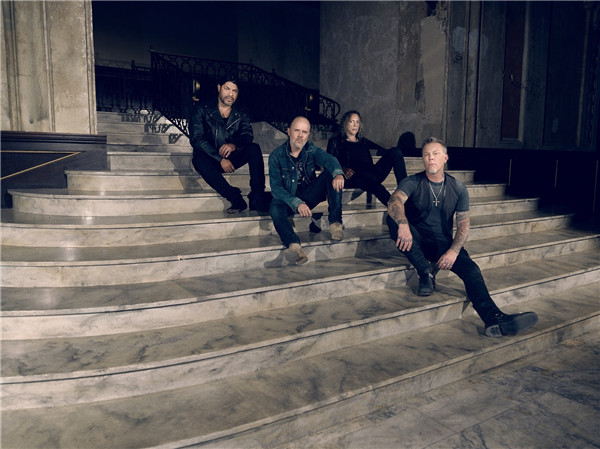 Metallica, formed in 1981, is one of the most influential and commercially successful rock bands in history. [Photo provided to China Daily]
More than three years after Metallica's China debut, the band is set to rock fans here again, with concerts in Shanghai and Beijing, Chen Nan reports.
When Metallica gave its first performance in China, at Shanghai's Mercedes-Benz Arena in August 2013, more than 20,000 fans were there for the historic moment.
"It was epic," says Jiang Wei, a Beijing-based indie live show promoter, who was in the audience.
"It was totally a metal zone," Jiang adds, recalling the band's performance of hits such as Hit The Lights, For Whom the Bell Tolls, Seek & Destroy and Enter Sandman.
According to AEG Live, the promoter of Metallica's China debut, 10,000 tickets for the first show were sold in a few minutes, prompting the scheduling of another concert the next day.
Jiang, in his 40s, who has been listening to Metallica's music since 1993, went to both shows and bought tickets in the front row.
The excitement is returning for Chinese fans like Jiang: the Grammy Award-winning rock band will return to Asia with a concert in Shanghai on Jan 15 at the Mercedes-Benz Arena. Metallica will then make its debut in Beijing on Jan 18 at the LeSports Center.
"Tickets of their Beijing show sold out within minutes. It will be another epic night," says Jiang.
Members of Metallica shared the feverish enthusiasm of Chinese fans during their stay in Shanghai in 2013.