Record-breaking animation 'Your Name' to hit China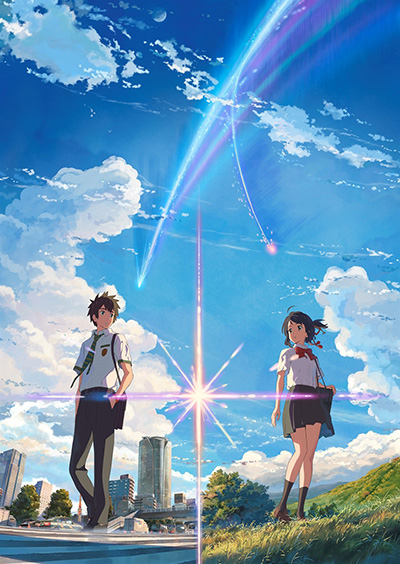 A scene from Your Name. [Photo/Mtime]
Japanese anime director Makoto Shinkai will bring his animated youth-fantasy film Your Name to Chinese audiences, and film industry insiders believe the film will be a dark horse in Chinese film market race after its December release.
The film is inspired by a novel of the same name written by Shinkai and made up of romantic and beautiful images in Shinkai's typical style. The story follows high schoolers Mitsuha and Taki who, though complete strangers living separate lives, suddenly switch places one night. Mitsuha wakes up in Taki's body, and he in hers. This bizarre occurrence continues to happen randomly, and the two must adjust their lives accordingly.
After its release in Japan on Aug 26, Your Name became a smash and broke a series of box office records. Thus far, Your Name has earned 18.97 billion yen ($171 million) and will probably become the No 5 highest grossing film ever in Japan in the next week. Shinkai also became the second anime director to have a film grossing over 10 billion yen, joining the legendary Miyazaki Hayao.
"But I'm not the next Miyazaki Hayao," Shinkai said at a press conference in Beijing on Tuesday, "and I don't want to be. Miyazaki Hayao's animated features could be viewed and enjoyed by all ages, but my films are made for teenage boys and girls."
Shinkai said he created Your Name because of the 2011 Tohoku earthquake. "Before that, I tried to explore the delicate and profound emotion in a stable society and life, but after the earthquake, many were affected by the crisis and felt uncertain. I wanted to write a happier story, considering the demands of society and audiences as well as the vision I wanted to convey."
Your Name has been well-received by critics. The review aggregator Rotten Tomatoes judged 95 percent of film reviews of it to be positive. In November, Funimation announced that Your Name was on the shortlist for the Academy Award for Best Animated Feature.
Shinkai also praised top-grossing Chinese animated films Big Fish & Begonia and Monkey King: Hero is Back and said he didn't see a big gap between Chinese and Japanese animation.
"But animation creators should really think about what they wanted to do for audiences for their own society," the animator added.
Makoto Shinkai's film will be released in China on Dec 2. Its Chinese distributor is China's film giant Enlight Media.
As Your Name has already made record-breaking box office records in Hong Kong and Taiwan, observers believe it will also have good results on the Chinese mainland, likely grossing more than 1 billion yuan ($145 million).
Related:
Actress-director Xu Jinglei returns to big screen