Chinese fantasy film gets big dose of Hollywood sparkle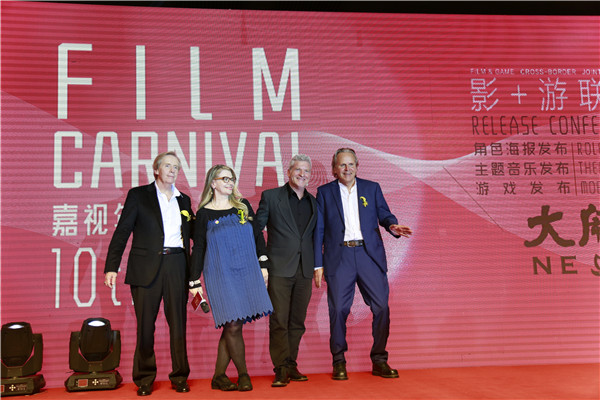 The upcoming film Nezha features an international production team including (from left) Stephen Castor, Gabriella Cristiani, Ethan van der Ryn and Jim Rygiel. [Photo provided to China Daily]
What can one expect when three Oscar winners join hands for a Chinese film? Perhaps, a company in Hangzhou, the capital of East China's Zhejiang province, has the answer.
Film Carnival, which last year moved from financing to filmmaking, announced last week that its first feature film has brought some of the people behind Middle-earth on board.
Jim Rygiel, the visual effects supervisor of The Lord of the Rings trilogy, and Ethan van der Ryn, who was in charge of sound editing in the second installment of the trilogy, Two Towers, will lead the visual effects and sound editing teams, respectively, for Film Carnival's upcoming fantasy comedy Nezha.
Nezha is based on the legends surrounding a Chinese folk deity by the same name.
The film, which is scheduled for release in 2017, features A-list actor Zhang Fengyi and Malaysian-Chinese actress Michelle Yeoh. It is directed by Jeffrey Lau, well known for his film A Chinese Odyssey.
The Lord of the Rings films that Rygiel and Van der Ryn worked won Oscars, and Van der Ryn won another Oscar for King Kong (2005) in addition to nominations for the Transformers series and Argo (2012).
Nevertheless, the industry veterans say that the Hangzhou firm's offer was a challenge for them.
"I had not heard of the Nezha story before I got the script," says Rygiel. "I am grateful to my Chinese colleagues in the art department who helped me."
Van der Ryn says that working on Chinese films is a good way to learn Chinese culture and history. He recently did sound editing for a Chinese film on the Chongqing Bombing, an atrocity committed by Japan during World War II, which is not well known in the West.
"I will use sound to show darkness and light, loudness and quietness (in Nezha)," he says.
Compared to them, however, Gabriella Cristiani, an Italian film editor who won an Oscar for The Last Emperor (1987), seemed more prepared when joining the Nezha production team.
Recalling her work on the film on Puyi, the last Chinese monarch, Cristiani, who once studied Taoism, says: "When I was editing the film images then, I felt like I was making a sculpture.
"You have to bring emotion and dynamism to your work. And, I think we are now prepared to produce the most exquisite scenes from China."
Though many Chinese film studios have worked with Hollywood in recent years, the Hollywood professionals working on Nezha sounded a note of caution.
"Some people (in Hollywood) get a little nervous about this (situation) and don't accept and embrace it," says Stephen Castor, a Hollywood veteran of motion-capture technology, who is the postproduction producer of Nezha. "But the collaboration can produce opportunities."
Castor says China now has more talent and advanced technology for cinema, but he also cautions the Chinese industry to learn from Hollywood's mistakes and not to waste money.
"It's important to learn how to plan properly and efficiently, and not to go for too large a crew," he says.
Rygiel also tells China Daily that film technology should serve the storytelling part.
"When we use the footage and tell a story, it has to be a compelling story," he says.
"I always hope that I can do as little work as possible, because the best way to tell a story is to make it as real as possible, rather than making everything blow up."
Probably, this is why Film Carnival does not want to make its films an extravaganza of dazzling visual effects, though its first three films are all fantasy fare.
"Creative efforts will be made, and all of them are to take traditional Chinese stories abroad," says Huang Xiaofeng, vice-president of Film Carnival.
"The introduction of Hollywood technology is one channel, but it needs many more ways."
Separately, the company has signed Kim Ki-duk, an art-house film guru from South Korea, for the upcoming film Who Is God?