Warner Bros' 'Fantastic Beasts' tops box office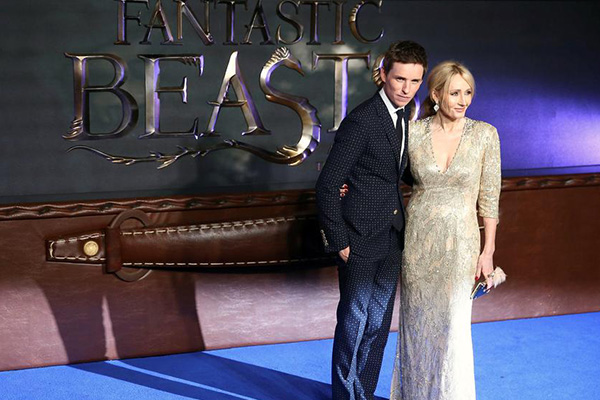 Eddie Redmayne (L) poses with writer J.K. Rowling as they arrive for the European premiere of the film "Fantastic Beasts and Where to Find Them" at Cineworld Imax, Leicester Square in London, Britain November 15, 2016.[Photo/Agencies]
Warner Bros' "Fantastic Beasts and Where to Find Them" debuted at first place this weekend in Northern America.
"Fantastic Beasts" opened at 4,144 locations in US and Canada this three-day weekend and grossed 75 million US dollars. As a Harry Potter related franchise, "Fantastic Beasts" attracted older audience. Statistic shows that only 18 percent of the opening weekend audience was under the age of 18 while 55 percent was over the age of 35, which suggests previous Harry Potter fans showed up, but the new generation wasn't quite as inspired.
"Fantastic Beasts" scored an "A" CinemaScore from opening day audiences, and it received a 76 percent of recommendation rate from critics on RottenTomotoes.
Disney and Marvel's "Doctor Strange" placed in second with an estimated weekend of 17.67 million dollars, a 59 percent drop compared to last weekend. For the total revenue of "Doctor Strange," it has got over 181.5 million dollars in north America and its worldwide box office went to 571.5 million dollars.
Fox's "Trolls" with an estimated 17.5 million dollars weekend, a 50 percent drop compared with last weekend. "Trolls" has gained 116 million dollars in America and Canada, its worldwide revenue went to 261 million dollars, far more over its 125 million dollars budget.
In this weekend, the top 12 films at box office grossed a combined 149.4 million dollars.
Rounding out the 10 most-popular movies this week were "Arrival" (11.8 million dollars), "Almost Christmas" (7 million), "Hacksaw Ridge" (6.7 million), "The Edge of Seventeen" (4.8 million), "Bleed for This" (2.4 million), "The Accountant" (2.1 million) and "Shut In" (1.6 million).