Italian pianist thrills China with lots of improvisation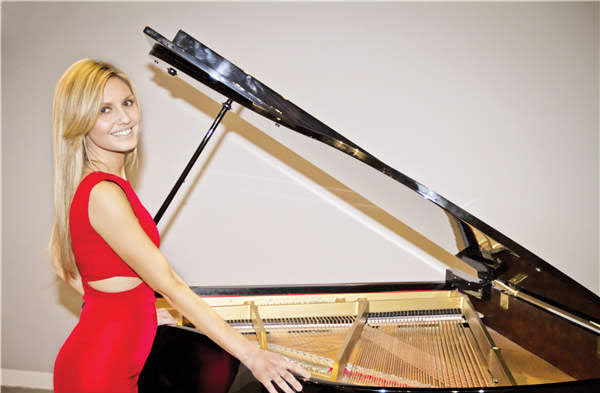 Pianist Vanessa Benelli Mosell is known for her interpretations of works by the late German composer Karlheinz Stockhausen. Matteo Nicolai/Provided to China Daily
Whistling, playing the piano and tapping the cover of the instrument, Italian pianist Vanessa Benelli Mosell gave the audience an entertaining experience when she performed at the National Center for the Performing Arts in Beijing recently.
It was the pianist's last stop on her first tour of China, which kicked off in Shanghai on Oct 22 and also covered Tianjin, Harbin in Heilongjiang province and Xiamen in Fujian province.
"Maybe next time I can do a concert with lights, colors and smoke, which is like a theater play, creating a totally different atmosphere from other piano recitals," the 29-year-old says.
The pianist, who has been classically trained since the age of 3 and made her debut appearance at 11, attributes her ideas about music to the late German composer Karlheinz Stockhausen known for his groundbreaking music.
It all started in 2006, when the composer heard Mosell, then 19, perform The Klavierstucke, a set of 19 compositions by him, on the radio.
Stockhausen then wrote to her and invited her to study with him in Germany.
From then on, until his death in December 2007, Mosell worked closely with the composer, receiving much critical acclaim and prizes for her musical interpretations.
She describes how it was "instant love" when she heard Stockhausen's music at a recital by Italian classical pianist Maurizio Pollini at Carnegie Hall in New York when she was 11.
"It (the time spent with Stockhausen) was, for sure, the biggest change in my life, which completely influenced me and my tastes in art, music and everything," she says.