The Fu Lei translation awards: Bridging French-Chinese literature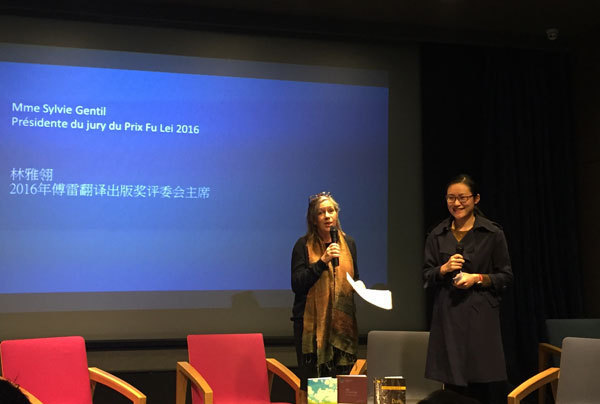 The jury of the 8th Fu Lei Translation and Publishing Awards announces 12 finalists at the French Culture Center in Beijing, Oct 18, 2016. [Photo by Li Ping/chinadaily.com.cn]
For eight years, the Fu Lei Translation and Publishing Awards, founded by the French Embassy in China in 2009, has been dedicated to honoring prominent Chinese translators who make efforts to introduce French literature to Chinese readers.
The 8th Fu Lei Translation and Publishing Awards unveiled 12 finalists - six under the category of "social science" and six under "fiction" - at the French Culture Center in Beijing on Tuesday, selected from over 50 candidates who submitted applications before April this year.
They will compete for three honors which will be announced at an awarding ceremony at the Temple Hotel in Beijing on Nov 26. Winners for fiction and social science will each get a bonus of 4,000 euros ($4,400) to share with their publishers, and a special prize of "best new translator" will come with 1,500 euros ($1,650).
In the shortlist, there are a variety of books under different subjects, including The Consolations of the Forest from famed French adventurer and writer Sylvain Tesson, Distinction from sociologist Pierre Bourdieu, and Astragal - the 1965 semi-autobiographical novel by Albertine Sarrazin.
The finalists are chosen based on criteria of both the importance of the books in French literature and the translators' language level, Sylvie Gentil, a jury member, said at Tuesday's news conference.