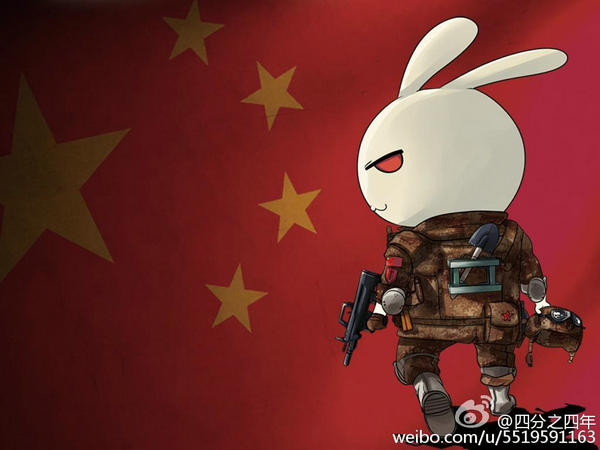 A still from animation series Those Rabbits (Na Nian Na Tu Na Shi). [Photo/Sina Weibo]
As Chinese comic and animation enters a new renaissance in recent years, more high quality works are being produced. Based on Chinese history or traditional myths, a variety of new animations have been hitting big screens. Some have an artistic style with a consistent story lines, such as comic series Qin' Moon, while some have a lighter and more humorous style, such as Those Rabbits (Na Nian Na Tu Na Shi).
These differences in techniques and styles have sparked discussion. The recent contentious animation Big Fish & Begonia was criticized by some netizens as "incapable of telling a good story" and "only having beautiful pictures".
Yet, the real unsung heroes of animation have got to be the voice actors in these animations, which are often overlooked by audiences.
Unlike many Japanese professional comic voice actors, who enjoy great popularity among fans and even often have face to face interactions with their followers, their Chinese counterparts are usually invisible.
On Zhihu, a China's version of Quora, many comic fans compared the acting skills of Chinese and Japanese voice actors.
A user named Xiakeyi, criticized the performance of Chinese voice actors as "blunt and rigid", especially those who acted for foreign animation films and series. Some of the actors would directly read the lines in Chinese, but not like normal speech, making them very stilted. And this kind of lame voice acting often ruined the film for audiences.
Even the excellent Chinese voice actors are often anonymous. People may be very familiar with a character in an animation film or series, yet have no idea who voiced the character.
"Unlike Japan, We don't have a mature institution to bring up these animation voice actors. And for most of the time, most of the audiences of Chinese animations are children, and they will not care who the voice actor is," said Huanghong, another Zihu user.
According to a Chinese animation voice actor, Tutu, many of the actors just take voice acting as a hobby, not a profession.
And many people know very little about voice acting for animation as well.
"People think this job is a bit mysterious, and they always asked me if I could imitate someone's voice," said Tutu, who takes on jobs not just in animation but also in computer games.
She does not have fixed working hours. For some stretches of time, she needs to work overnight, and at others, she might have nothing to do. During her busiest season, she may not even have enough time to sleep.
"Before we start acting for a new production, we will be given some basic information of the characters in the animation. We need to have a good study of the character's features to act well. And acting for computer games is much easier," said Tutu.
Aside from full-time voice actors like Tutu, there are some people who take animation voice acting as a part time job or a personal hobby.
Li Xiaoyao, a part-time voice actor, is one the latter. He has been in the profession for seven to eight years.
"I often do the voice acting for a few hours when I am free. Like those who are fond of playing cards or games, I take this as leisure," said Li.
As a very domestic and introverted man, Li is not good at making friends; however, voice acting can make his simple life more colorful.
Another part-time voice actor, Baqianlu, said many people derive happiness from the profession rather than making big money.