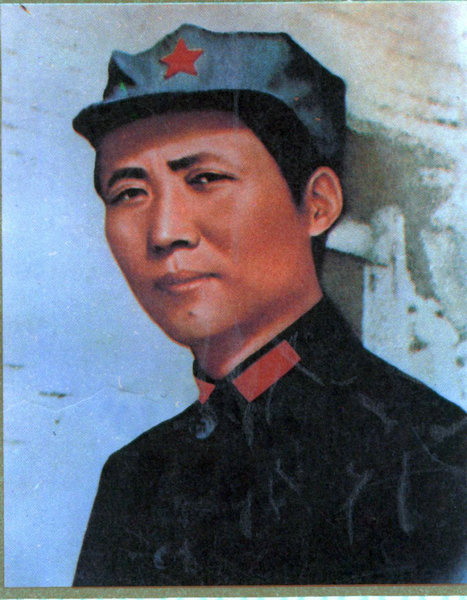 An iconic photo of Mao Zedong taken by Edgar Snow.[Photo provided to China Daily]
During his four-month stay in Yan'an in Northwest China's Shaanxi province in 1936, American journalist Edgar Snow took one of the most iconic photos of Mao Zedong, the founding father of New China. It showed the late leader in a Red Army hat that featured a red star at the center of its front face.
Snow was then conducting interviews with top leaders of the Communist Party of China, following the Red Army's completion of the Long March. The Communists bega'n a two-year strategic retreat in 1934 to evade capture by Kuomintang forces.
The hat Mao wore in the photo was borrowed from Snow. He had received it as a gift along with a Red Army uniform when he arrived at the revolutionary base in July 1936.
Snow had kept the hat through his life. After his death in 1972, his family sent it to China; it is now part of a collection at the National Museum of China in Beijing.
The museum also boasts an initial edition of Red Star Over China published in London in 1937. The book became Snow's best-known account of his time in Yan'an, and has been reprinted in dozens of languages since.
The hat and the book are among some 300 items from the museum's collection that are now being shown at an exhibition, titled Belief, Spirit, Inheritance. It marks the 80th anniversary of the completion of the Long March.
Also on display are slogans written on wooden boards, military maps, comic books, letters and artworks, reflecting the Communist soldiers' discipline and willingness to sacrifice for the nation.
"The Red Army believed faithfully that 'revolutionary ideals higher than the sky'. They put this into practice by liberating the oppressed, who in return helped to spread the shared thoughts," says Jiang Lin, a curator at the museum.