The legend of Dragon Boat Festival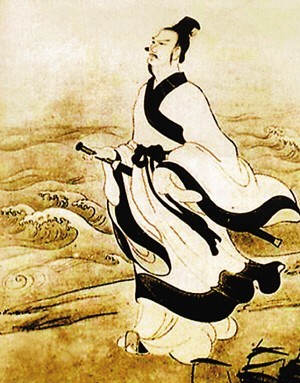 A portrait of Qu Yuan. [file photo]
China's Dragon Boat Festival, or Duanwu, is just around the corner. Also called Double Fifth Festival, the festival is celebrated on the fifth day of the fifth month of the lunar calendar, which falls on June 9 this year.
It is one of the oldest festivals, not only in China but also throughout the world, with a history of more than 2,000 years. In 2006, the traditional festival was listed as one of China's national intangible cultural heritages. In 2008, it was recognized as a public holiday in Chinese mainland.
The Dragon Boat Festival commemorates the death of Qu Yuan, a Chu state official and poet who lived during the Warring States Period (475-221 BC) before the reunification of China under the Qin Dynasty (221-206 BC). He was exiled after opposing his king's decision to ally with the neighboring state of Qin, and when Chu was finally conquered by Qin, he committed suicide by drowning in a river on the fifth day of the fifth lunar month in Miluo River.
The Chu people, who admired Qu Yuan for his loyalty and integrity, threw rice dumplings into the river to feed the fish so they would not eat the body of their poet hero.
It is said people then started dragon boat racing to scare off the fish.
Since then, the fifth day of the fifth month on the lunar calendar is celebrated as the Dragon Boat Festival. People hold boat races and prepare zongzi (sticky rice dumplings in bamboo leaves) in memory of Qu's righteousness and his beautiful poems.
Special coverage:Your guide to the Dragon Boat Festival