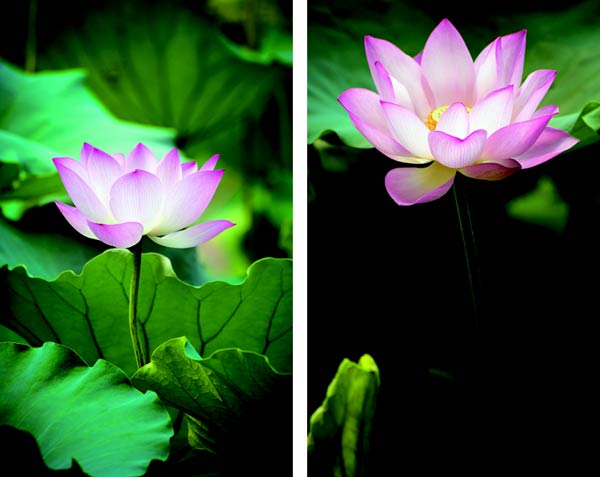 Photo provided to Shanghai Star
Lotus flower shave long been a favorite subject of Chinese poets and painters. The flowers are famous for being faithful and unyielding because they rise above muddy waters and bloom in summer. In Shanghai, lotus flowers typically grow in large pools in parks. Every August, when they are in full bloom, they attract crowds of professional and amateur photographers hoping to capture their beauty.
Veteran flower photographer Mu Qing shares his tips on how to best capture the blooms.
1. A telephoto lens is necessary. The pool is usually very large and it is best to use a prime lens with a focal length of 300 mm or 400 mm, or more economically, a zoom lens ranging from 80 mm to 400 mm.
2. Make use of backlighting. The petals of lotus flowers and the leaves are translucent. A slight backlight can best present the green of the leaves and delicacy of the flowers.
3. Use a good tripod. It helps keep the camera as still as possible because the wind will easily move the fl owers and leave your images out-of-focus.
4. Use soft, filtered light. A cloudy day is helpful because a strong light will reduce the detail in the color and the petals, and that is where the beauty comes from.
Best place to shoot lotus flowers
Guyi Garden 218 Huyi Rd, Nanxiang Town, Jiading district 􀙉􀟿􀓜􀓮􁏔􁪙􀷫􀠁􁡸􀀓􀀒􀀙
021-5912-2225
Gucun Park 4788 Hutai Rd, Baoshan district 􀀁􀠂􀡢􀓜􀷫􀜹􁡸􀀕􀀘􀀙􀀙􀕁
021-5604-5199