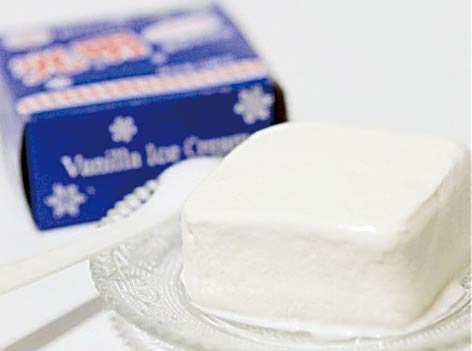 Photos provided to Shanghai Star
Ice cream bricks
Children born in and around Shanghai were devoted fans of the snowy white Bright ice cream brick (guangming pai bingzhuan).
The rich milky taste of the ice cream brick made the product extremely famous in the 1980s. The blue packaging with white snowflakes, red and white characters and logo has changed little over the decades.
Under the blue paper, the fragrant aroma of the vanilla-flavored cream rises even before you peel off the translucent paper around the ice cream brick, which is about 10 centimeters square and 4 cm thick.
This was first developed in the 1950s, and proved popular immediately among consumers, becoming Yimin's star product.
Later, the company developed a high-end ice cream brick under the brand White Polar Bear. This was hard to find during the 1970s, because it was specially supplied to government leaders and State-owned hotels. Nowadays, the high-end ice cream can be easily purchased at supermarkets and convenience stores.
History on a stick
The history of the tasty ice lollies and other ice cream products can be traced back to 1913, when Yimin was an American trading company specializing in egg processing. After it imported American ice cream facilities in 1925, the company started to produce ice cream during the low seasons for egg production.
In 1932, it became one of China's first ice cream factories making ice cream under the "Beauty" trademark.
"Beauty" was replaced by "Bright" in 1950, and the company was renamed the Shanghai No 1 Yimin Food Factory in June 1953.
After it imported production facilities from Denmark, Sweden and Italy, ice cream production output soared by 18 times to more than 15,000 tons in the 1990s from just over 800 tons in the 1950s.
Over the years, Yimin went through many ups and downs, like many time-honored brands, but it kept on launching new products to the market.
This year, more than 10 million yuan ($ 1.62 million) was invested in updating its facilities with increased automation, more efficient energy consumption and higher output, according to one of the heads of Shanghai Yimin Food, who spoke on condition of anonymity.
Apart from focusing on the Zhejiang, Jiangsu and Shanghai markets, Yimin has also expanded into Jiangxi, Anhui, Fujian and Shangdong provinces, as well as Chongqing, in the last couple of years.