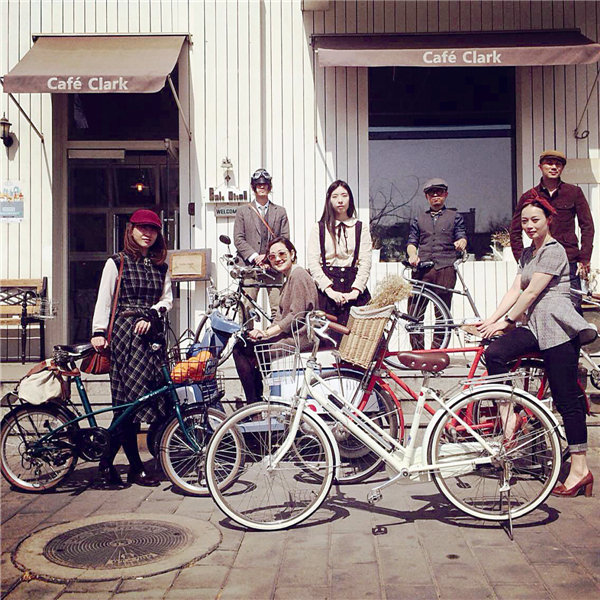 Niu Er and his friends enjoy riding their vintage bicycles on weekends and collecting relics from the past. Photos provided to Shanghai Star
He looks to the past for stories hidden in vintage articles, and this hobby has developed into a full-time interest. Yu Ran looks through his impressive collections.
Collecting vintage items has become a lifetime hobby for 32-year-old Niu Er and his friends.
It all started when he was a kid fond of collecting old toys to play with. Now, he pays more attention to objects such as old bicycles and second-hand clothes that have interesting stories behind them.
"I am more interested in finding out who owned the items and how, and what their specific memories are, instead of purely focusing on old-fashioned designs," says Niu, who runs a tattoo parlor in Shanghai's downtown.
One of his favorite vintage bicycles was bought from an old man he met on the streets. Niu stared at the handmade frame of the bicycle for more than 10 minutes, and the owner noticed his interest.
They talked for more than half an hour by the side of the road and Niu learnt that the owner's grandfather bought the bicycle in 1968 for 170 yuan($27.50), which was a huge amount of money at that time.
The man told Niu the bicycle had been passed on to him by his grandfather and was a big part of his childhood memories, but his own son was not interested in keeping it.
"He was looking for someone to take care of the bike as a precious possession and I was the lucky one. I bought the bike and his priceless stories for 300 yuan," Niu says.
He also searches out second-hand coats, suits, bags and shoes for his own use and to sell at vintage fairs.