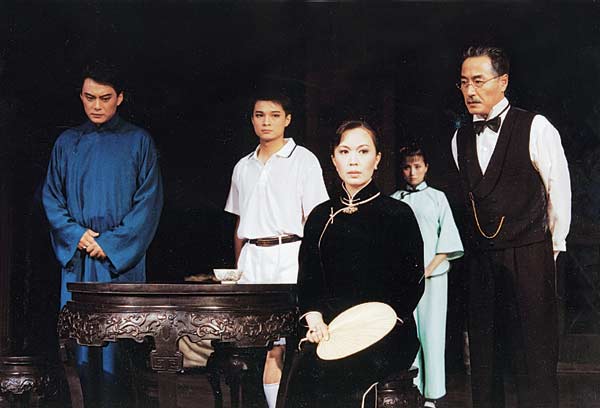 Tension bubbles over on stage during Thunder Storm. [Photo provided to Shanghai Star]
Thunder Storm is an honest stage performance whose greatest strength lies in the skills of the actors, writes Zhang Kun.
Yang Lixin has acted in Thunder Storm with Beijing People's Art Theater more than 200 times, and he still finds new sparks of inspiration.
Yang came to Shanghai last week to introduce the Theater's plan to tour the city in July and August. Thunder Storm, one of the greatest achievements of Chinese modern drama, and one of the most recognized repertoires by Beijing People's Art Theatre, is the first on the program.
The tickets to the play, scheduled to be staged at Shanghai Dramatic Arts Center from Jul 31 to Aug 2, are already sold out.
Three generations of theater artists have been staging Thunder Storm for 60 years at Beijing Art Theatre, says the theater's deputy director Cui Ning. Every year after the Spring Festival, the theater stages a few performances of Thunder Storm, "so that we don't get rusty", Yang says.
'Besides, it brings great satisfaction doing it."
One of the finest creations of modern Chinese literature, the play by Cao Yu was published 80 years ago. Thunder Storm tells the story of a family tragedy in the 1920s.
Zhou Puyuan, a 55-year-old entrepreneur seldom stays home. His much younger wife is gradually losing her sanity because of an incestuous relationship with her step-son.