Drama Rainbow: Creative discovery for kids
No rote learning, just developing potential in each child, Wang Xin reports.
For Wang Wei, founder of children's training institute Drama Rainbow, drama is far more than entertainment.
It is a form of education that inspires the imagination and creativity in youngsters, she told China Daily in a recent interview.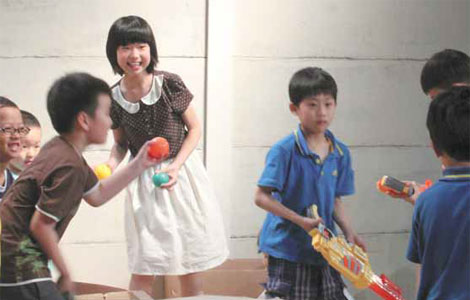 Children enjoy playing on the stage after the theater drama The Box Room performed at the National Theater of China in June. Photos Provided to China Daily
The institute offers once-a-week sessions in a five-year-long program that "seeks to cultivate in its students not only independent thinking, but also a disciplined sensibility and confidence in both the inside and outside world".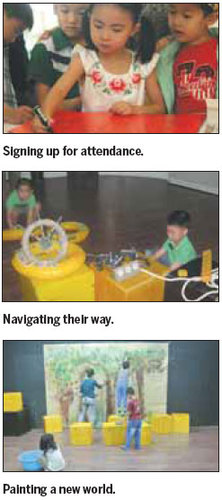 At a conventional training center, scores of students crowd a classroom to follow a teacher in one specific subject, hoping to get an edge from an extracurricular class in China's score-oriented educational system.
Even a purely interest-fostered program aims to give pupils an advantage in a given field such as public speaking or writing.
But there is no textbook or competitive elbowing for high scores at Drama Rainbow. Each of its courses designed for children ranging from aged 3 to 8 is a play. The entire class of around 10 students participates with the aid of two teachers.
Instead of being given scripts to recite, the children create the play themselves after teachers provide a scenario.
"There is no need to lead them into the play. It's their nature," Wang said. "The 3 to 6 years old live in their own fantasy world. You can always find them playing multiple roles even alone. Role-playing is just their way of learning and entertainment."
Professional guidance from teachers adds clout. It helps children improve their imagination, expression, emotion, focus and intelligence, enabling development of interpersonal skills and creative thinking, she noted.
Wang cited a play about a small town as an example. "It gives children the opportunity to combine their knowledge in a diverse range of fields from urban planning and architecture to mathematics for a solution and helps develop a comprehensive quality."
Even an adult's mind may go blank in an unfamiliar environment. The classroom plays provide more exercise to prepare children for real life.
Plays based on centuries-old tales that reflect the humanities help develop emotional qualities.
Brain development in childhood is crucial to future competitiveness, she said. "We try to guide our students to enhance constructive imagination and avert destructive ones."