Capital's festival summer
The annual Open Door to Art festival at the Forbidden City Concert Hall will start on July 4 and run until the end of August. Beijing Symphony Orchestra will perform the opening concert under conductor Tan Lihua. With classical compositions, including The Blue Danube and Hungarian Dance No 5, the concert will also witness 10-year-old violinist Chen Shengyu perform.
7:30 pm, July 4. Forbidden City Concert Hall, inside Zhongshan Park, west of Tian'anmen Square, Xicheng district, Beijing. 010-6559-8285.
G.E.M kicks off tour
Hong Kong-based singer and songwriter Gloria Tang, otherwise known as G.E.M, will kick off her tour of Shanghai from July 4. Tang became nationally famous after competing in a TV singing show I Am a Singer earlier this year. She is famous for her powerful voice, musical talent and indie rock style. Tang was the youngest Hong Kong singer to perform a solo concert at the Hung Hom Coliseum in 2011.
8 pm, July 4-6. Mercedes-Benz Arena, 1200 Expo Avenue, Pudong New Area, Shanghai. 021-5150-9199.
Getting fancy with Gershwin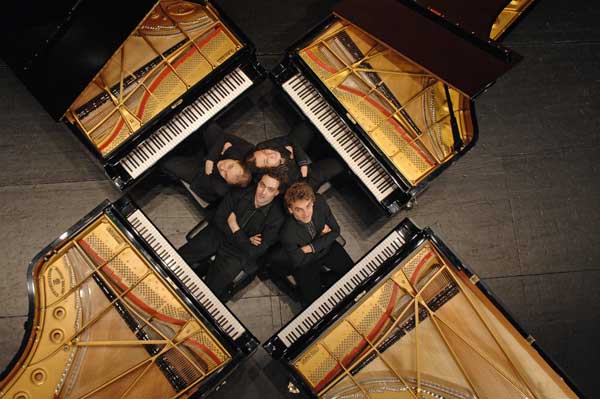 The Gershwin Piano Quartet will deliver its novel take on American composer George Gershwin's iconic works at Guangzhou Opera House, with four talented Swiss pianists (pictured above) rearranging and improvising popular songs and orchestral works such as Rhapsody in Blue and An American in Paris. The quartet also has its lively way with works by Gershwin's contemporaries like Rachmaninoff and Prokofiev, jazz classics like Autumn Leaves and songs from the Broadway musical West Side Story.
8 pm, July 6. Opera Hall, Guangzhou Opera House, 1 Zhujiang Xi Lu (Road), Zhujiang New Town, Guangzhou. 020-3839-2888.