14th 'Meet In Beijing' arts festival kicks off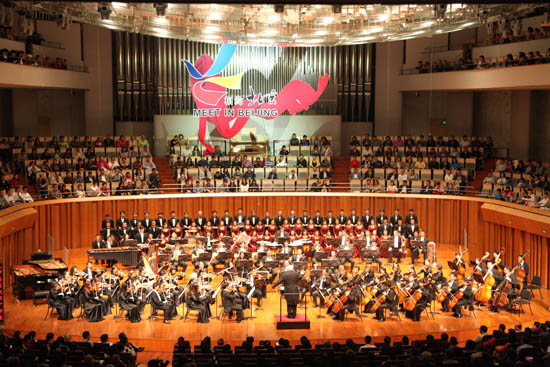 The 14th "Meet In Beijing" festival kicked off on Monday evening at the National Center for the Performing Arts. [Photo/CCTV.com]
This year festival features a francophone flair.
A number of French pieces have been selected for the opening concert of this year's "Meet In Beijing" festival. Called "Esprit Francais," the concert is a celebration of the 50th anniversary of the establishment of diplomatic ties between China and France.
Conductor Philippe Entremont led the Symphony Orchestra and Chorus of China National Opera House. The octogenarian has been conducting for 30 years but he is also a virtuoso pianist. Despite his advancing years, Entremont continues to perform. This season he has led chamber music concerts and was invited to be guest conductor by several European and American orchestras. He also toured the United States with soloist, Sebastian Knauer.
For Monday's opening concert, Entremont chose a program that was both aesthetically pleasing to the ear and entertaining.
"This is the opening night and opening night must be easily accessible music and patriotic on the part of China. Why not? It's wonderful," Entremont said. "I chose the French part. Very well-known work. Berlioz and Bizet from the world of opera. This is a very balanced, entertaining program."
From Hector Berlioz to George Bizet and from Zheng Qiufeng to Wang Liping, "Esprit Francais" was an evening of high-calibre entertainment. French Soprano Julie Cherrier charmed the audience with her angelic voice in her interpretation of Jules Massenet's "Je marche sur tous les chemins" from "Manon". Baritone Francois Le Roux, Chinese tenor Fan Jingma and Mezzo-soprano Yang Guang also performed well-known crowd-pleasers by French and Chinese composers.
"...Fantastic moment between France and China. And the music would be a great symbol and example of this ceremony and anniversary," an audience said.
"I came from Xinjiang. And to be able to watch such a wonderful concert is really an experience of a lifetime for me," another said.
First started in 2000, this year's "Meet In Beijing" festival will feature 60 indoor and 220 outdoor performances by artists from 33 countries. The festival runs until June 1st.